Rhode Island, known as the Ocean State, offers an array of stunning boardwalk beaches Rhode Island, each with its own unique charm and activities. From the picturesque shores of Narragansett Town Beach to the enchanting Crescent Beach on Block Island, these coastal gems captivate the hearts of beachgoers seeking sun, fun, and scenic walkways. But with so many choices, which beaches should you consider for your next Rhode Island adventure?
So, which are the must-visit boardwalk beaches in Rhode Island? Some of the top beaches include Narragansett Town Beach, Easton's Beach in Newport, Misquamicut State Beach in Westerly, Scarborough Beach in Narragansett, Roger W. Wheeler State Beach in Narragansett, and Crescent Beach on Block Island. Each of these beaches offers a unique blend of picturesque landscapes, exhilarating activities, and a variety of attractions, making them perfect for a memorable Rhode Island getaway.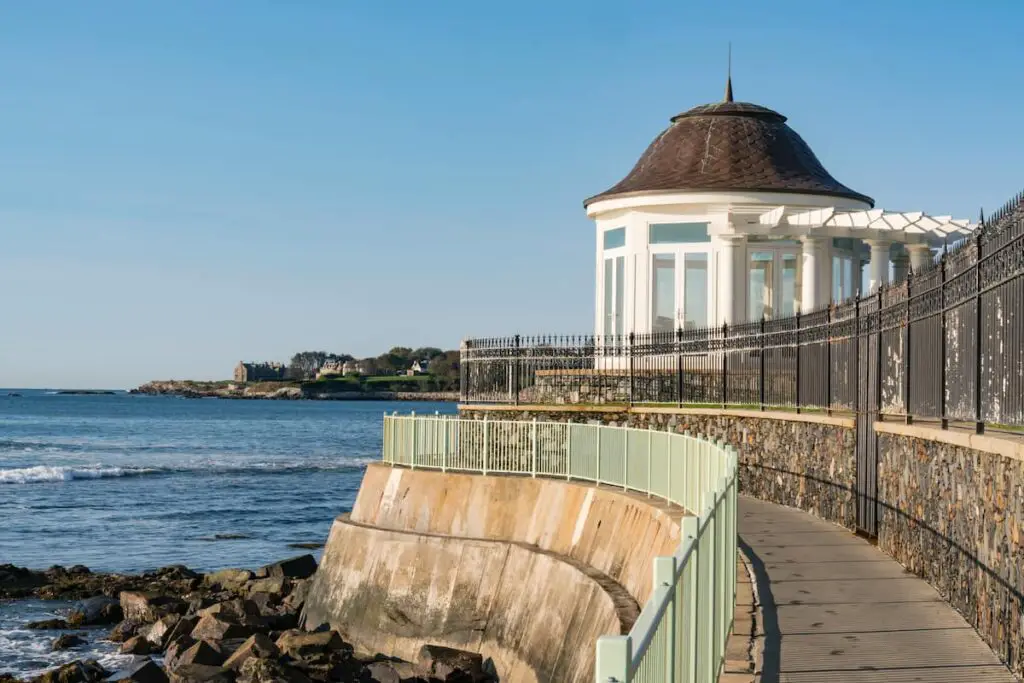 Key Takeaways‍
Narragansett Town Beach offers pristine sandy shores, turquoise waters, and Narragansett surfing opportunities for visitors.
Easton's Beach, Newport features sun-soaked coastlines, scenic walkways, and close proximity to Newport Mansions and Cliff Walk.
Misquamicut State Beach, Westerly provides various beach activities, picturesque boardwalk, and diverse range of beachfront dining options.
Scarborough Beach, Narragansett offers expansive shoreline, beach activities, and opportunities for birdwatching enthusiasts among local wildlife.
Roger W. Wheeler State Beach, Narragansett is a popular destination with over 27 acres of sandy coastline and pristine waters.
Crescent Beach, Block Island captivates visitors with unspoiled beauty, picturesque landscapes, and a variety of exhilarating activities.
Rhode Island, the smallest US state, boasts picturesque coastlines, pristine beaches, and charming boardwalks that offer stunning Atlantic Ocean views and recreational activities. These boardwalk beach destinations provide a perfect blend of sun, sand, and scenic walkways, attracting both locals and tourists to explore the natural beauty and historical sites nearby. There are several beaches in Rhode Island with boardwalk, such as Misquamicut Beach and Narragansett Town Beach and I'll go over several like this below.
Visitors can stroll along well-maintained wooden pathways, enjoy the sound of waves and laughter, and reconnect with nature and loved ones. Additionally, these boardwalk beaches cater to various tastes with amenities like fresh seafood restaurants, local artisan boutiques, and amusement parks, offering an engaging escape from daily life while fulfilling the desire for freedom.
Table of Contents
I'll explore what makes each of these Rhode Island boardwalk beaches so special, delving into the activities you can enjoy, the scenic walkways to explore, and the unique attractions nearby. I'll also share some tips on how to make the most of your visit to these coastal paradises. So, whether you're a beachcomber seeking solitude or a thrill-seeker looking for the perfect surf, stick around and discover the beauty and freedom that await you on Rhode Island's picturesque boardwalk beaches. Let's dive in!
Top Boardwalk Beaches in Rhode Island
Let's dive into exploring each boardwalk beach in Rhode Island in detail. For those boardwalks in Rhode Island I've experienced, I'll share my impressions, and you can also find my personal thoughts and experiences in the subsequent sections.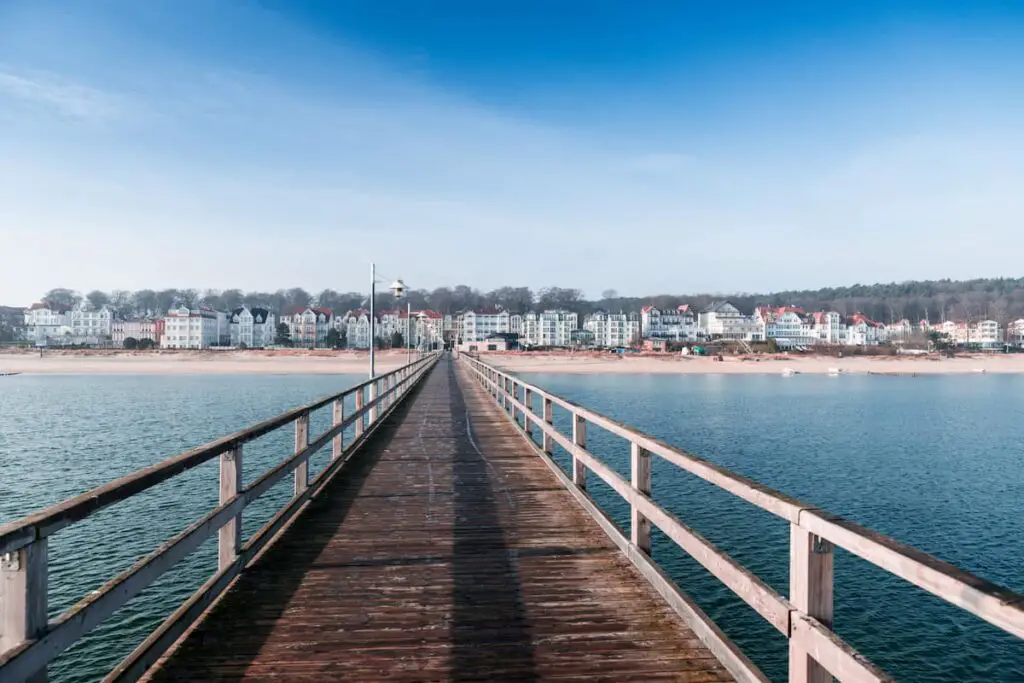 Narragansett Town Beach
Stretching along the resplendent coastline of Rhode Island lies the breathtaking gem, Narragansett Town Beach. This unparalleled utopia boasts an idyllic fusion of pristine sandy shores, turquoise waters that sparkle like a sea of diamonds, and balmy ocean breezes that kiss sun-kissed skin with a gentle embrace.
The scent of salt in the air is intoxicating while the melodic sound of crashing waves and distant laughter lures visitors to indulge in this paradise. Within this heavenly oasis, exhilarating Narragansett surfing opportunities abound, beckoning surfers from far and wide to test their mettle against the Atlantic's undulating waves.
The enchantment does not stop at the water's edge; visitors will revel in the captivating allure of beachside dining, where sumptuous culinary delights tantalize taste buds as patrons feast their eyes on panoramic views of the stunning seascape.
Whether enjoying a romantic dinner beneath a cotton candy sunset or savoring fresh seafood as sailboats drift lazily along the horizon, one cannot help but be swept away by Narragansett Town Beach's magnetic charm.
As twilight descends upon this coastal haven and twinkling stars emerge to dance atop shimmering waters, it becomes abundantly clear that Narragansett Town Beach offers its guests not only a sublime day but also an unforgettable experience that ignites one's innate longing for freedom and serenity.
Easton's Beach, Newport
Easton's Beach, situated in the picturesque city of Newport, Rhode Island, offers visitors a delightful blend of sun-soaked coastlines and captivating scenic walkways. This popular destination not only boasts a pristine sandy shore but also provides easy access to the surrounding area's most sought-after attractions, including the opulent Newport Mansions and the stunning Cliff Walk.
The beach's boardwalk, dotted with eateries and entertainment options, guarantees an enjoyable experience for all ages while simultaneously satisfying that innate craving for freedom. The proximity of Easton's Beach to the renowned Cliff Walk allows beachgoers to effortlessly transition from basking in the sun to exploring a 3.5-mile path adorned with breathtaking ocean views on one side and magnificent Gilded Age mansions on the other.
Experiencing this exceptional fusion of natural beauty and architectural splendor serves as a testament to both Rhode Island's rich history and its present-day allure. Visitors are sure to leave Easton's Beach feeling revitalized by its serene atmosphere, awe-inspired by its neighboring landmarks, and undoubtedly eager for their next coastal escape.
Misquamicut State Beach, Westerly
Misquamicut State Beach, Westerly offers a variety of activities for beachgoers to enjoy, such as swimming, sunbathing, and surfing.
Along the boardwalk, visitors can find a variety of restaurants offering a wide selection of food and beverages.
Beach Activities
Emphasizing the plethora of beach activities available at Misquamicut State Beach, Westerly, one cannot overlook the excitement and fun that awaits visitors.
With its pristine shoreline and picturesque surroundings, this boardwalk in Rhode Island gem offers a diverse range of recreational options for those seeking both relaxation and adventure.
Engaging in a friendly game of beach volleyball on the soft sand courts not only provides an excellent opportunity to socialize with fellow beachgoers but also allows one to bask in the glorious sun while enjoying some healthy competition.
Furthermore, the annual sandcastle competitions held at Misquamicut State Beach showcase incredible artistic talent and creativity, as individuals and teams feverishly work against time to create awe-inspiring masterpieces out of sand.
The sense of freedom one experiences while participating in these activities truly exemplifies the essence of a quintessential Rhode Island beach experience.
Boardwalk Restaurants
In addition to the numerous beach activities, Misquamicut State Beach boasts a variety of boardwalk restaurants that cater to the diverse tastes and preferences of its visitors.
These beachfront eateries offer a unique dining experience, with picturesque ocean views providing an idyllic backdrop for enjoying sumptuous meals.
Oceanview dining at these establishments allows patrons to soak up the breathtaking Rhode Island coastal scenery while feasting on delectable dishes derived from local ingredients and prepared by skilled chefs.
The amalgamation of mouth-watering cuisine, inviting ambiance, and unparalleled natural beauty truly encapsulates the essence of freedom found in this enchanting seaside destination.
Scarborough Beach, Narragansett
Scarborough Beach, located in the picturesque town of Narragansett, Rhode Island, offers visitors an ideal destination for a fun-filled day in the sun. Known for its expansive shoreline and pristine white sands, this beach is a popular spot for both locals and tourists alike. With its proximity to the renowned Ocean Road, guests can enjoy stunning views and easy access to nearby attractions while strolling along scenic walkways.
Scarborough wildlife further adds to the charm of this location, as various bird species frequent the area providing opportunities for birdwatching enthusiasts. Beach activities are plentiful at Scarborough Beach, ensuring that there is something for everyone to enjoy. The following list highlights some of the most popular activities available:
Swimming and sunbathing:

Lifeguards are on duty during specified hours

The calm waters make it a suitable destination for all ages

Surfing:

Designated surfing areas cater to experienced surfers

Surf lessons and board rentals are available nearby

Beachcombing:

Discover unique shells and sea glass along the shorelines

Observe marine life in tide pools during low tide
The allure of Scarborough Beach extends beyond its natural beauty and recreational offerings. This coastal gem serves as a haven for those seeking respite from daily stressors, allowing them to reconnect with nature while fulfilling their subconscious desire for freedom. As visitors immerse themselves into the tranquil ambiance that envelops this serene setting, they experience moments of rejuvenation that will undoubtedly leave them longing for more days spent under Rhode Island's warm sun and salty ocean breezes.
Roger W. Wheeler State Beach, Narragansett
Statistically, one of the most popular destinations in Rhode Island for beach and boardwalk enthusiasts is Roger W. Wheeler State Beach, located in the picturesque town of Narragansett. Boasting over 27 acres of sandy coastline and pristine waters, this beach has been a favorite among locals and tourists alike since its establishment in 1960.
The area's rich Wheeler Beach history can be traced back to its namesake, Roger W. Wheeler, who was instrumental in developing the Rhode Island State Park System and ensuring the preservation of its natural beauty for generations to come.
As visitors embark on their scenic walk along the boardwalk at Roger W. Wheeler State Beach, they are presented with an array of beach activities that cater to a wide range of interests and age groups. From swimming and sunbathing to building sandcastles or engaging in friendly games of beach volleyball, there is no shortage of opportunities for leisurely enjoyment or active pursuits on these shores.
Furthermore, patrons can take advantage of rental services offering paddle boards, kayaks, and other watercraft for those seeking aquatic adventures beyond the shoreline. With amenities such as changing rooms, restrooms, concessions stands, and lifeguard services available throughout the season, this iconic Rhode Island destination continues to provide an idyllic setting for those yearning for a sense of freedom amidst stunning coastal landscapes.
Crescent Beach, Block Island
Crescent Beach on Block Island is a popular destination for swimming, sunbathing, and beach activities.
Visitors can partake in activities such as fishing, paddling, bird watching, and beach walking, as well as enjoy scenic views of the sand dunes and purchase beach accessories, food and souvenirs for added family fun.
Crescent Beach
Crescent Beach, located on the enchanting Block Island, offers a unique blend of picturesque landscapes and exhilarating activities that captivate the hearts of its visitors.
The unspoiled beauty of this shoreline draws individuals seeking solace in nature's embrace while fulfilling their subconscious yearning for freedom.
Engaging in various Crescent Beach activities such as swimming, kayaking, or simply basking in the sun's warmth on fine sand provides a sense of liberty as well as an opportunity to explore one's inner self.
As part of the broader Block Island attractions, the scenic walkways along Crescent Beach present a tranquil setting for leisurely strolls or invigorating jogs amidst lush greenery and soothing ocean breezes.
A visit to this coastal haven guarantees not only unforgettable memories but also a renewed appreciation for the simple yet profound pleasures life has to offer.
Block Island
While Crescent Beach offers a sanctuary for those seeking respite and rejuvenation, it is but one of the many attractions that the captivating Block Island has to offer. The island's alluring charm extends beyond its pristine shores, beckoning visitors to delve into its mysteries through various avenues of exploration.
Block Island Exploration presents a myriad of opportunities to uncover the island's natural wonders, from its diverse flora and fauna to the unique geological formations that speak volumes about Earth's history. Venturing inland, one can encounter an astonishing array of Island Wildlife inhabiting the diverse ecosystems that coexist harmoniously on this small landmass. Whether traversing through dense woodlands or roaming across lush meadows, every step taken unveils hidden treasures awaiting discovery.
Birdwatchers will be delighted by the multitude of avian species gracing the skies above, while nature enthusiasts can revel in observing endemic plant life thriving in harmony with their surroundings. The spirit of freedom permeates not only within Crescent Beach but throughout Block Island as well, inviting intrepid travelers to embark on a journey of self-discovery and wonderment amidst breathtaking landscapes that have stood the test of time.
As each exploration unravels new facets of this enchanting isle's character, it becomes apparent that there are countless reasons why generations have been drawn to its mesmerizing allure.
Gurney's Newport Resort & Marina
Gurney's Newport Resort & Marina, a luxurious marina located in Rhode Island, offers visitors an unparalleled experience of relaxation and enjoyment. With its picturesque setting and outstanding amenities, the resort caters to the diverse interests of beachgoers, whether they seek tranquility along the pristine shoreline or wish to explore the vibrant local attractions.
Gurney's provides a unique blend of comfort and elegance, accentuating the natural beauty and charm of Rhode Island's boardwalk beaches. As a relaxing resort, Gurney's Newport is designed to facilitate a sense of freedom and leisure for its guests. Visitors can indulge in various waterside activities or simply take pleasure in strolling along the scenic walkways that showcase panoramic views of the coastline.
The soothing atmosphere provided by Gurney's extensive facilities contributes to an unforgettable vacation experience that embodies the captivating allure of Rhode Island's beachfronts and boardwalks.
Lincoln Woods State Park, Lincoln
Transitioning from the luxurious ambiance of Gurney's Newport Resort & Marina, another destination that encapsulates the essence of Rhode Island's natural beauty is Lincoln Woods State Park in Lincoln. It might be one of the best beaches in Rhode Island with boardwalk.
This park offers an idyllic environment for those seeking to reconnect with nature and enjoy a variety of outdoor activities, all within a setting that radiates tranquility and freedom.
Surrounded by lush greenery and pristine waters, this park is a haven for both relaxation and adventure.
Lincoln Woods State Park boasts a range of amenities and features that cater to diverse interests and preferences, creating an inviting atmosphere for visitors.
Some highlights include:
Park activities such as kayaking, fishing, and picnicking can also be enjoyed amidst the serene backdrop of towering trees and gentle breezes.
The park's verdant surroundings serve as an inspiration to those who wish to escape urban life temporarily while still remaining within reach of Rhode Island's bustling cities.
As one meanders along the scenic walkways or takes part in any number of engaging pursuits offered at Lincoln Woods State Park, it becomes clear why this location is celebrated as one of Rhode Island's most cherished natural treasures.
Oakland Beach, Warwick
Oakland Beach, located in the city of Warwick, Rhode Island, is a popular destination for both locals and tourists. This picturesque location offers a variety of attractions to satisfy any desire for freedom and adventure.
Along the scenic shoreline, visitors can indulge in an array of Oakland eateries that serve up delectable cuisine while providing stunning ocean views. Additionally, the boardwalk presents an opportunity for leisurely strolls and people-watching, as well as access to local shops selling unique souvenirs.
A myriad of beach activities awaits those who venture to Oakland Beach. Aside from basking in the sun on its sandy shores or taking a refreshing dip in the cool waters of Narragansett Bay, thrill-seekers can partake in water sports such as kayaking, paddleboarding, and kiteboarding. Furthermore, nearby parks provide ample green space for picnicking or engaging in friendly games of beach volleyball or frisbee.
For individuals seeking relaxation with a touch of excitement, Oakland Beach unquestionably provides an ideal escape.
Colt State Park, Bristol
Colt State Park, located in the picturesque town of Bristol, Rhode Island, offers a unique blend of history and natural beauty.
This 464-acre park was once part of the sprawling estate owned by industrialist Samuel P. Colt, who played a significant role in shaping Bristol's economic landscape during the late 19th and early 20th centuries.
Today, visitors can explore Colt Park history by visiting the preserved historical structures within the park, including the stone barn and museum that showcase Colt's legacy as well as remnants of ornate gardens.
In addition to its rich historical background, Colt State Park boasts an abundance of Bristol wildlife due to its diverse ecosystems.
The park's location along Narragansett Bay provides ample opportunities for birdwatching as various migratory species make their way along this coastal region.
Within the park, one may encounter white-tailed deer gracefully roaming through forested areas or catch glimpses of red foxes stealthily stalking their prey.
Moreover, tidal salt marshes harbor an array of marine life such as fiddler crabs and blue mussels while offering crucial habitats for fish nurseries.
As visitors traverse the scenic walkways throughout Colt State Park, they are sure to be captivated by both its fascinating past and thriving natural environment.
Goddard Memorial State Park, Warwick
Goddard Memorial State Park, located in the city of Warwick, presents a myriad of opportunities for outdoor enthusiasts to experience both the beauty and tranquility that Rhode Island has to offer. With over 490 acres of land encompassing various landscapes, park visitors are encouraged to partake in Goddard Park exploration, as well as embark on Warwick adventures that cater to their unique interests.
From picturesque beaches and boardwalks to peaceful nature trails, this scenic destination offers an escape from the daily hustle and bustle, satisfying one's subconscious desire for freedom.
To fully appreciate the wonders of Goddard Memorial State Park, consider exploring the following attractions:
Beaches: Unwind along miles of sandy shoreline while basking in the sun or taking a refreshing dip in the ocean.
Nature Trails: Immerse yourself in Rhode Island's natural beauty by traversing through lush forests and observing local flora and fauna.
Equestrian Center: For those who want a more thrilling adventure, saddle up at the park's equestrian center and explore its vast grounds on horseback.
This remarkable state park not only provides an idyllic haven for beachgoers but also serves as a sanctuary for individuals seeking respite within nature.
Through engaging in various activities available at Goddard Memorial State Park, visitors can create unforgettable memories while fulfilling their innate longing for freedom and adventure.
Sachuest Beach, Middletown
Akin to an artist's palette, Sachuest Beach in Middletown, Rhode Island, boasts a kaleidoscope of hues and experiences.
The azure waves of the Atlantic Ocean embrace the sun-kissed shores as nature orchestrates a symphony of sights and sounds.
This enchanting setting is further adorned by a picturesque boardwalk that weaves through the landscape, offering visitors an idyllic promenade for leisurely strolls or invigorating jogs.
Alongside these scenic walkways, Middletown Eateries provide tantalizing cuisine options, catering to diverse palates and perfectly complementing the beach experience.
As one traverses this coastal haven, opportunities for adventure abound with various Beach Activities that appeal to both thrill-seekers and those seeking solace in tranquility.
From surfing on cresting waves to building castles on powdery sands, Sachuest Beach presents a canvas where memories are etched indelibly in time.
The call of freedom resonates throughout this coastal gem as it beckons visitors to unwind and immerse themselves in its captivating embrace.
Personal Thoughts and Experiences About ‍Boardwalk Beaches in Rhode Island
Living in San Diego as a teenager, I was captivated by the charm and beauty of small beach towns. Although I have yet to travel to Rhode Island beaches (Newport seems to be my main target destination so far), it has captured my imagination.
Researching about these beaches, I've been transported back to my California days, immersed in the sun-kissed shores and vibrant boardwalks, with a newfound love for the coastal scenery of Narragansett Town Beach, Easton's Beach, and Misquamicut State Beach. These enchanting destinations not only ignite my fond memories but also fuel my desires to explore small beach towns around the world.
If I got the opportunity to travel to Rhode Island, I would head straight to Narragansett Town Beach to try out the exhilarating surfing opportunities.
I'd also relish in a romantic dinner at a beachside restaurant while admiring the panoramic views of the stunning seascape. Another place I'd visit would be Easton's Beach, Newport, to embark on the Cliff Walk and marvel at the Gilded Age mansions.
I would also participate in a friendly game of beach volleyball at Misquamicut State Beach, Westerly, and finally, unwind by exploring the tide pools during low tide at Scarborough Beach, Narragansett.
Frequently Asked Questions
Are There Any Boardwalk Beach Accommodations Or Beach House Rentals Available Near These Rhode Island Beaches?
In the vicinity of Rhode Island's picturesque boardwalk beaches, an array of accommodations and beach house rentals cater to visitors seeking both relaxation and excitement.
These lodgings not only provide convenient access to sun-soaked sands and scenic walkways but also offer a plethora of amenities that enhance the overall beach experience.
Boardwalk dining options abound, allowing guests to indulge in delicious local cuisine while enjoying stunning ocean views.
Additionally, the coastal nightlife presents an enticing mix of lively bars, clubs, and entertainment venues for those seeking a vibrant after-hours scene.
As such, these diverse offerings contribute to fulfilling the inherent desire for freedom among travelers who choose to explore Rhode Island's captivating shoreline and partake in its unique seaside attractions.
Are Pets Allowed On Any Of The Mentioned Boardwalk Beaches, And If So, Are There Specific Rules And Regulations That Pet Owners Need To Follow?
As if a symphony of waves and sunshine orchestrated for the delight of beachgoers and their furry companions, several boardwalk beaches in Rhode Island welcome pets with open arms.
However, specific rules and regulations must be adhered to in order to maintain harmony along these picturesque shorelines. Pet owners should familiarize themselves with canine beach etiquette, as certain restrictions may apply during peak seasons or specific hours of the day.
In addition, pet-friendly dining options abound near these coastal retreats, providing ample opportunity for both humans and their four-legged friends to refuel after a day spent frolicking in the sand and surf.
The alluring call of Rhode Island's boardwalk beaches whispers promises of freedom, inspiring both man and beast to revel in the simple pleasures of sun-soaked days by the sea.
Are There Any Annual Events Or Festivals That Take Place At These Rhode Island Boardwalk Beaches That Visitors Should Be Aware Of?
A plethora of annual events and festivals adorn the picturesque Rhode Island boardwalk beaches, attracting visitors to partake in the vibrant atmosphere and entertainment.
The Annual Events Extravaganza features various celebrations that cater to diverse interests, ranging from music and art to sports and culinary delights.
Festival Food Favorites showcase local delicacies and unique flavors, offering gastronomic experiences for beachgoers who wish to indulge in Rhode Island's delectable cuisine.
These festivities not only provide a lively backdrop for a leisurely stroll along the scenic walkways but also fulfill the innate desire for freedom by immersing participants in a dynamic amalgamation of culture, recreation, and natural beauty.
Which Of These Boardwalk Beaches Are Known For Their Surfing Opportunities, And Are There Any Surf Schools Or Rental Shops Nearby For Beginners?
Renowned for their exhilarating surfing opportunities, several Rhode Island boardwalk beaches cater to both experienced surfers and beginners alike. Among these coastal gems, Narragansett Town Beach is particularly famous for its consistent waves and hosts various surfing competitions throughout the year.
To ensure surfing safety and provide a comprehensive learning experience for novices, numerous surf schools and rental shops can be found in close proximity to these beaches, offering expert guidance and essential equipment.
Embracing the spirit of freedom that accompanies the sport, visitors to these picturesque Rhode Island beaches are swept away by the allure of sun-soaked boardwalks, refreshing ocean breezes, and the thrill of riding cresting waves.
Are There Any Wheelchair-Accessible Boardwalks Or Facilities Available At These Rhode Island Beaches For Visitors With Mobility Limitations?
Ensuring an enjoyable experience for all visitors, several Rhode Island beaches offer wheelchair-accessible boardwalks and facilities, catering to those with mobility limitations.
These accessible beach areas not only provide smooth pathways for easy navigation but also feature wheelchair friendly eateries, ensuring a seamless and delightful culinary experience for all.
Additionally, some locations offer accessible beach activities, allowing individuals with diverse abilities the opportunity to partake in various recreational pursuits.
With these inclusive measures in place, Rhode Island's picturesque boardwalks and pristine shorelines can be appreciated by a broader audience, fostering a sense of freedom and enjoyment for all who visit.
Conclusion
So there you have it. Rhode Island beaches with boardwalks that offer a picturesque fusion of natural beauty and vibrant seaside culture. They provide an idyllic setting for both relaxation and adventure, catering to diverse interests and preferences among their visitors. With a plethora of accommodations, activities, and accessible facilities available, these coastal havens are truly a testament to the Ocean State's allure.
As the sun sets over the horizon, casting an ethereal glow on the shimmering waters and golden sands, one cannot help but be captivated by the enchanting ambiance that defines Rhode Island's boardwalk beaches.
These scenic walkways serve as a gateway to unforgettable experiences, beckoning visitors from all walks of life to indulge in the simple pleasures and shared joys that epitomize beachside living.