Grill At The Beach With a Charcoal Grill or Portable Barbecue [Best Beach Grill Ideas and Tips]
Key Takeaways
Always check local laws and consult authorities for permissible grilling spots on or near the beach.
Consider using a fire ring or a public grill setup, both of which may have different amenities like grates.
Bring essential tools like long skewers with wood handles, grill spatula, and heat-resistant mitts for safe grilling.
Popular grill items at the beach include hot dogs, burgers, and chicken, but variety like fish or veggies is possible.
Keep safety in mind by maintaining a distance from flammable materials and bringing enough fuel for the grill.
Plan ahead to ensure you have enough food, drinks, and comply with beach regulations for a successful beach barbecue.
It's summertime, and if you're thinking about grilling, a beach barbecue may be on your list. If you have a favorite beach in mind, you will want to grill gourmet meals right on the sand for your family and friends. But the question is, how to grill on the beach in a proper way?
How To Grill On The Beach
You can grill on the beach if you find proper, legal fire pit rings for grilling, or find one of the public grilling spaces on the beach or nearby beach park that allows grilling or setting up a charcoal grill. Portable grills and tabletop grills can also be used in public grilling spaces. Choose to grill a variety of meats, fish, and vegetables.
A beach barbecue is one of the most fun outdoor activities that you can do with your family and friends.
It's an essential first step to find out if grilling is allowed on the beach. You intend to have your beach barbeque, so knock this out as a first priority. Find out if the beach has fire rings or if you can use a grill that you bring from home. Can you grill on the beach? Check the state beach guidelines on the internet or even call directly to be sure. (Source)
Planning to grill at the beach anytime soon? Want to see the latest portable grills for the beach that are popular right now? Click Here to go to Amazon and check them out!
Table of Contents
There is a lot to discuss, including grills, cooking, and transporting items to the beach. I'll cover all this in the article. 
I'll also look at some of the choices in our scenario profiles of Rick, the 19-year-old college sportsman, Sara & Jake, and their two children, and Jack, a 50-year old remote worker. 
Stay tuned, you won't want to miss it!
Can You Bring a Gas Grill to The Beach?
Yes, you can bring a gas grill to the beach. Portable and tabletop gas grills can be used at the beach. Be sure to check the specific regulations for grilling on the beach from relevant sources (state beach or park authority websites). It's important to determine is: can you can bring a grill to the beach and which kinds are allowed.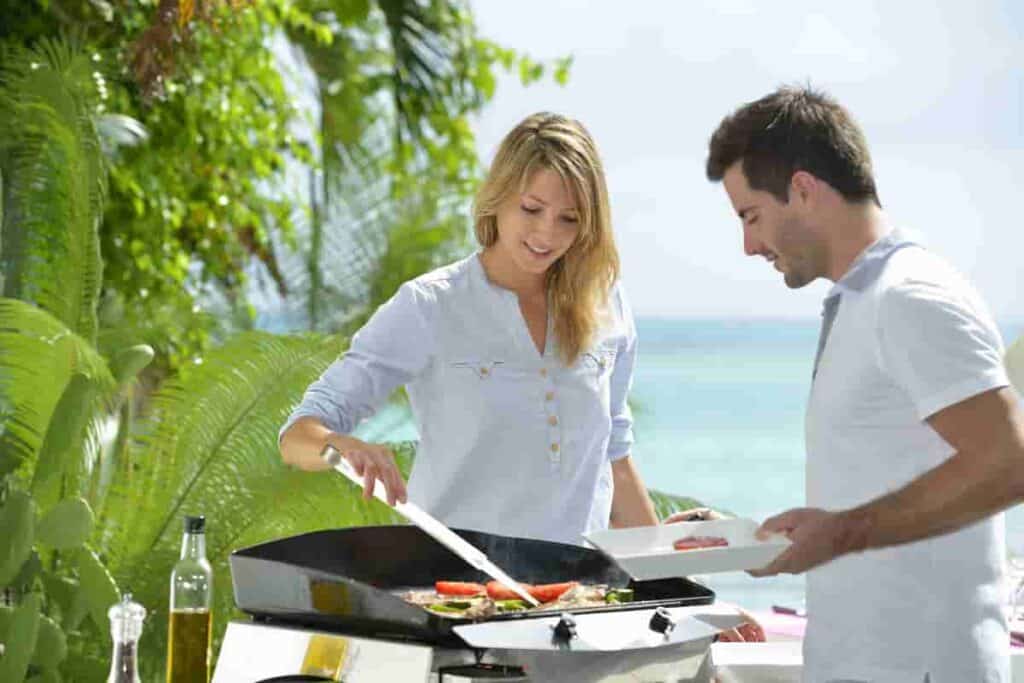 There are many different types of grills available today, including charcoal grills, gas grills, electric grills, propane grills, and kamado-style grills. 
Can you barbecue on the beach? Find the right spot to grill, and that's half the battle!
Finding a Spot to Grill at the Beach 
Finding a spot to grill at the beach is tricky because laws for beach grilling can change from one beach to another, even within the same city. 
It's best to find out directly from the local authorities (state beach websites, offices, etc.) or local park authority on grilling and open flames laws. Then it's easy to choose the beach you go to with the type of grilling you want to do. (Source)
Figuring out which is the best grill for the beach depending on your situation is pretty straightforward. Here's a list of grill options for the beach:
Fire Ring – Perhaps grilling on a fire ring is the most fun and easiest of the options to grill. Once you find one, all you need is some charcoal briquets, start the fire, and then you can use long skewers to grill your kebobs or hot dogs.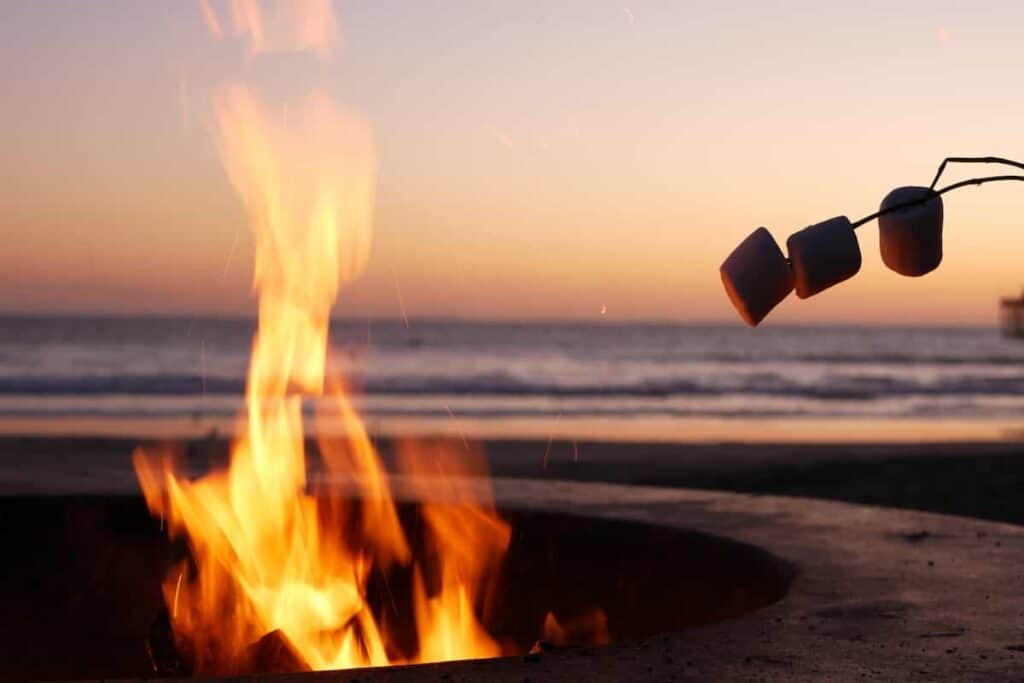 One drawback is that fire rings do not always have a grill grate which allows you to put meats and fish flat on top of it for grilling. If possible, choose a fire ring with a grill grate or bring your own. It will add to the grill experience. 
Public grill (grate and space for charcoal) – many beaches and adjacent beach parks have public grill areas with a grate and brick setup where you can start a grill fire with charcoal. This will indicate whether you can barbecue on the beach, but keep in mind that you should find out for certain.
Public space for grills – Alternatively, you can bring your grill in spaces that allow for grills. There are different types of grills, such as portable charcoal grills and gas grills.
–Portable charcoal grill – designed to use charcoal briquets, they can be set on a table or standing up by themselves. 
–Portable gas grill – these grills use gas to grill foods, and you need to have a separate bottle of gas or propane carried along with it. 
The perfect beach barbecue is large enough to accommodate multiple burger patties but is portable enough that it won't require five people to lug from the parking lot. Be sure to test the grill out at home before bringing it to the beach.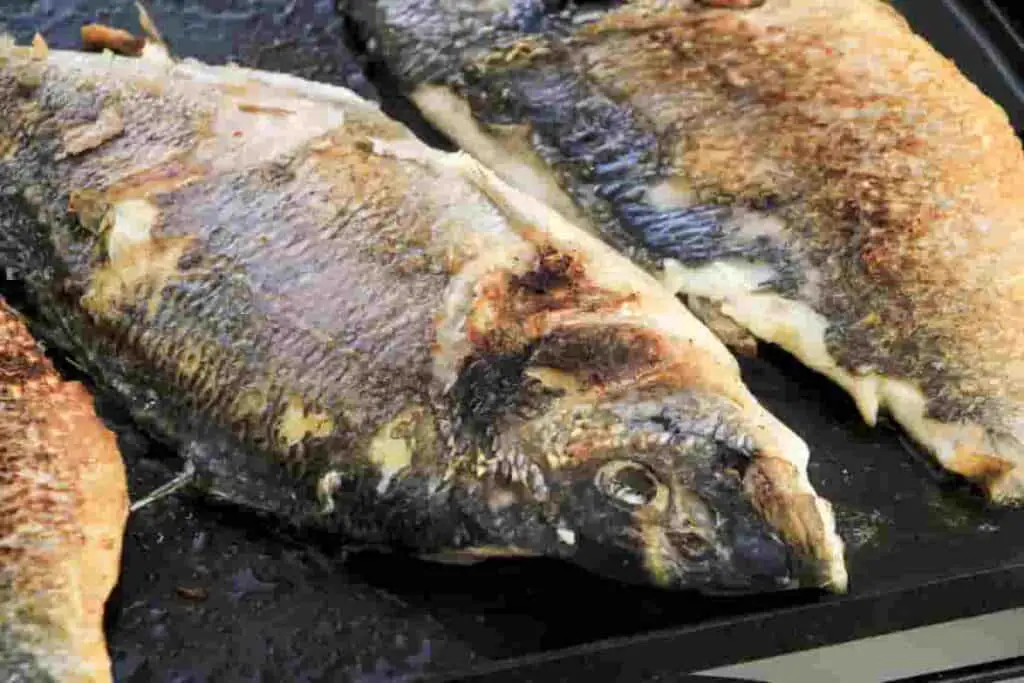 Use the Public Grill Setup or Bring Your Own Grill? How to Grill on The Beach
It's personal preference to use easily accessible public grills or bring your own. Each has its pros and cons. In the big picture, it will come down to whether you prefer to use your grill items and don't mind carrying a lot of things from home versus having a grill setup that might not be too clean (or already taken) and where you bring the food. 
As someone who went to the beach and grilled a lot when I was younger in San Diego, I preferred public grills. Easy setup – you bring the briquettes and light it – and clean up was almost as easy, just making sure the fire was out and putting the ashes in the receptacle. It's probably the way I would go today as well. 
However, I know some people who only want to use their equipment, and the portable gas grill is so small that it looks like it would be fun to try out. 
How Would Rick Grill?
So what would Rick, a 19-year old college student, choose when he has an idea to go to the beach and grill? As he is sporty and outgoing and used to being on the beach, he will likely choose a fire ring or public grill set up either on the beach or the beach park area. 
Rick doesn't have time or interest in carrying all that equipment in his car and bringing it over to the beach. He invites a few of his friends to grill kebabs and hot dogs, something quick and easy. It makes it easy to clean up and get back to being on the beach and waves.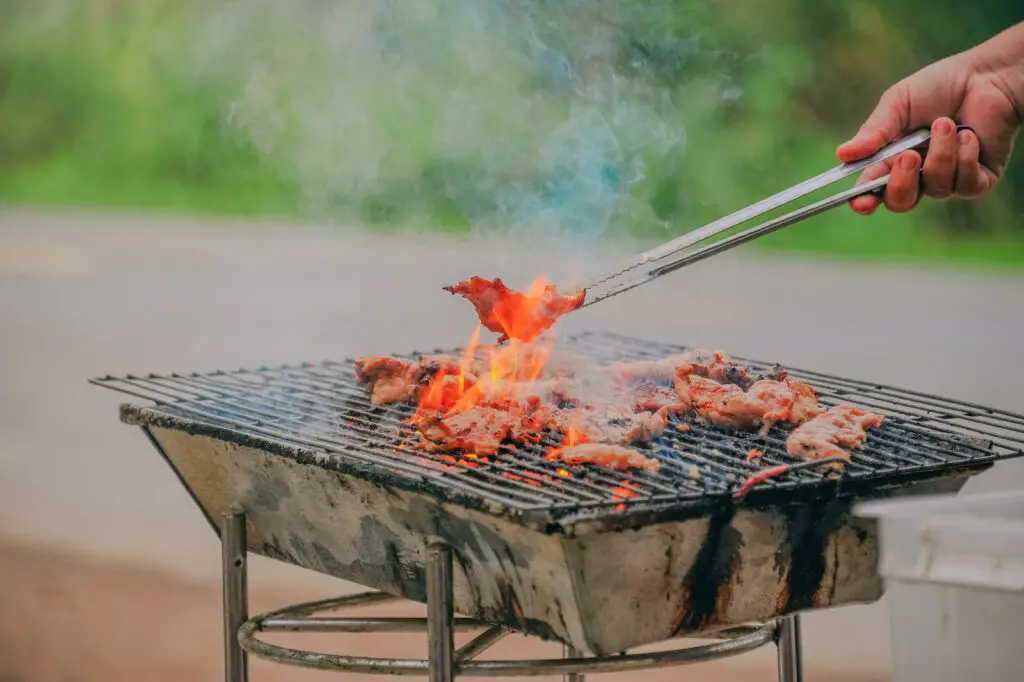 What Kind of Food Should I Bring to The Beach and What Can You Cook On the Beach?
Food to grill at the beach is as varied as what you can bring to a picnic. You will want something that tastes good and can be easily shared by many people. You will want to bring various things like meats, seafood, and vegetables. Hot dogs and hamburgers are always a favorite for kids and teenagers.
Let's go over some ideas for grilling at the beach and which grill type to use.
Ideas of What To Grill At the Beach
You can grill many items at the beach, but burgers, hot dogs, and chicken are the most popular. You can also grill vegetables, meats, and fish. Grilling is a great way to enjoy the beach and the fresh sea air.
Ideas for the Fire Ring:
meat kebabs
seafood kebabs
hot dogs and sausages
marshmallows
As mentioned above, a fire ring has some cooking limitations if there is no grate to place the food on. You will need long skewers with a wood handle to grill your food over the fire. 

I wrote a full article on the best ideas of what to grill on the beach. Check it out here! 15 Simple [and Delicious]: Easy Beach Grilling Ideas for Your Next Beach BBQ
Ideas for the Public Grill: Charcoal based
Meats – steaks, chicken breast, pork filet, and carne asada
Seafood – Fish, shrimp, lobster, squid
Vegetables – onions, bell peppers, zucchini, 
Ideas for Portable Gas Grill:
As you have more control of the heat and flames, there are possibilities to grill oil or sugar-based marinated meats and seafood, which could easily burn on just an open charcoal grill.  
-Marinated meats, seafood, and vegetables
For the kids -hot dogs, sausages, and burgers are all favorites that kids love and are possible for both portable charcoal grills and gas grills. 
Sara and Jake's Family Grill at the Beach
Let's look at another couple, Sara & Jake, who have two children aged seven and nine years old. For them, a beach is a place for the whole family to have fun. Jake doesn't mind going the extra mile to prepare the grilled foods and likely opts to bring his grill with charcoal so that he can effectively grill quickly. 
He knows it's important to find out for certain if you can grill at the beach and also can you bring a grill to the beach so he has checked the webpages of the beach parks.
They find a beach park where he can set up, and Sara and the kids can play while he grills.
He has prepared some steaks and chicken for the family and vegetables that taste good when grilled. All the food is brought with an ice chest, and he has done it a few times before, so it is easily set up and broken down after grilling.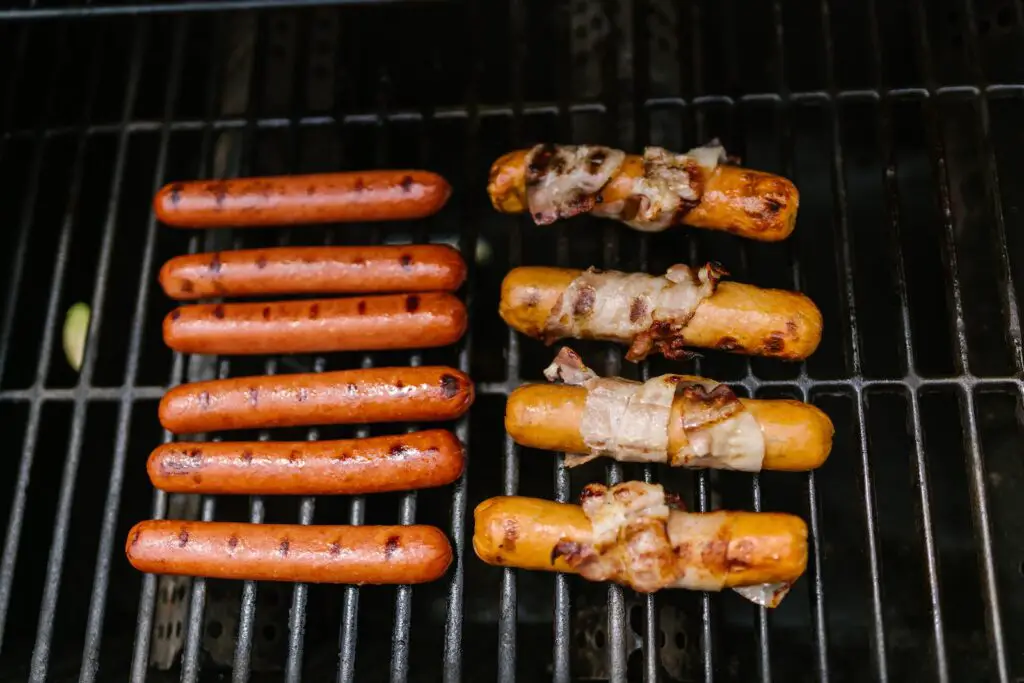 Kids Food to Grill At the Beach
One of the best kids' food to grill at the beach is grilled chicken breast, for a change from the traditional hot dogs and hamburgers. Chicken breasts are quick to cook and easy to eat. They're also inexpensive. If you want to add some flavor to your grilled chicken, try marinating it first. Marinating will give the meat a tangy taste.
As an example, here's a simple chicken marinade for grilled chicken.
Mix together 1/4 cup olive oil, two tablespoons of balsamic vinegar, one tablespoon honey, and one teaspoon garlic powder. Then rub the mixture all over the chicken before putting it into the refrigerator overnight. After you've done that, remove the chicken from the fridge 30 minutes before grilling. It will allow the flavors to mix together. 
Preheat your grill to medium heat once your beach grill is ready to grill. Place the chicken onto the grill and let it sit for 5 minutes. Flip the chicken over and repeat the process. Cook each side for another 5 minutes. Remove the chicken from the grill and serve immediately.
Transport, Preparation, Grill Tips, and Clean Up
Let's take a look at how to put all this into action. 
Transport and Preparation
Transporting your charcoal grill or portable gas grill can be easy, depending on the size of the grill and your car or truck. 
Transport:
Transport the charcoal grill together with briquettes, lighter fluid, matches, and tools for grilling such as tongs and spatulas.
Transport portable grill as well with grilling tools.
If your grill has wheels, this can be an advantage in moving it to the grilling space.
Preparation of Fire Ring
Remove any litter or large stones from the fire ring. 
Place the wood or charcoal briquettes and light the fire
If you have a grill grate, put it on the fire after it has burned down, about 10-15 minutes
Preparation of Public Grill
Clean the area where the briquettes go from any extra debris
Put the briquettes in, use lighter fluid if you are using it, and light it up
Clean the grill grate with a wire brush
When the briquettes are glowing red, adjust the grate to the desired height, and you are ready to grill
Preparation of Portable Charcoal Grill and Portable Gas Grill
Position your charcoal grill or portable gas grill to the desired place you want to grill. 
Check to see which way the wind is blowing. Move it so that the smoke does not blow on your table where you will eat.
Place the briquettes and light the fire, or if using a gas grill, attach the gas and turn on the grill (Source)
A Few Pointers When Grilling on Beach
The beach is a great place to enjoy outdoor activities like barbecuing. But it can also pose some challenges. For example, sand gets everywhere, and it can ruin your food experience. Here are some tips for grilling on the beach.
Determine which way the wind is blowing and set up your grill or where you sit so that the smoke doesn't blow on you or your family and friends. 
Keep sand out of the food by positioning the food and containers on a blanket or table. 
Although grill accessories are one more set of things to bring to the beach, they are worth it. Bring these tools as needed – grill tongs, grill brush, grill spatula, skewers.
Bring some kitchen towels and oven or heat-resistant mitts. They come in handy if you need to move the grill grate or pick up something hot while grilling. 
Use coolers – they come in various shapes, materials, and sizes – to transport and keep your drinks and food for the grill cold. 
When preparing for the grill menu, keep things simple. You are at the beach to have fun in the water or on the shore, and grilling is just one of the things that are part of that mix. If things are too complicated, you won't have as much fun
Bring a roll of paper towels. They always come in handy, even at the fire ring.
Cleanup 
Cleanup Checklists for Grilling on the Beach
| Task | Instructions |
| --- | --- |
| Putting out the fire | Completely douse the fire with water, ensuring all embers are extinguished and cool to the touch. |
| Trash removal | Collect all trash, including paper and foil, and dispose of it in the proper trash bins provided at the campsite. |
| Grill grate | If you brought a grill grate, clean it and take it with you when you leave the campsite. |
| Fire ring maintenance | Leave the fire ring in good condition for the next campers, ensuring it's free of trash and debris. |
Public Grill and Public Grill Space For Your Portable Grill:
Completely put out the fire
Put ash or grill briquettes into the proper receptacle for grill ashes. Do not put it in the normal trash bins.
Take all paper and foil trash to the proper trash bins
Consider the Case of Jack
Consider the case of Jack, a 50-year-old remote worker who spends a lot of time at the beach with friends and by himself. He has grilled on the beach before, and on this particular Saturday afternoon, he decides to grill some seafood on the beach so that he can enjoy the ocean waves and fresh air. 
A fire ring is what he prefers, and one that has a steel grating so that he can grill his fish and shrimp, prepared in aluminum foil. Grilling doesn't take a long time, and within an hour, he has grilled his fish and shrimp and is finishing up. Cleanup is super fast. 
Final Thoughts      
Grilling on the beach is such a fun experience. The combination of smoke and grilled food combined with sun, waves, and sea breeze can add to the memories you have with your family and friends. 
This article focused on how to grill on the beach, giving examples and pointers for grilling on the fire ring, a public grill, and your own portable charcoal or gas grill. It's worth repeating that you should be sure to find out and know the beach rules as it concerns grilling and open fires. 
I hope you got a few tips that you can use for your grill party at the beach! 
Frequently Asked Questions‍
How can I grill on the beach?
Grilling on the beach is a great way to enjoy a day at the beach and have a beach barbecue. Make sure to bring a grill with you, whether it's a charcoal grill or a portable barbecue.
What type of grill should I use?
You can choose to use a charcoal grill or a portable gas grill. Both types of grills work well for beach grilling.
What are some tips for grilling on the beach?
Here are some tips for grilling on the beach: – Make sure to bring enough charcoal or propane for your grill. – Choose a grill that is compact and easy to transport. – Bring utensils such as tongs, spatula, and a brush for cleaning. – Double-check the beach regulations to ensure that grilling is allowed. – Use a grill mat to protect the beach sand from any hot coals or grease. – Keep the grill a safe distance away from any flammable materials.
Can I cook anything on the beach grill?
Yes, you can cook anything on the beach grill. Whether you want to cook burgers, hot dogs, seafood, or even s'mores, the grill on beach provides a versatile cooking option.
What are some things to keep in mind while grilling on the beach?
Here are some things to keep in mind while grilling on the beach: – Make sure to bring all the necessary ingredients, seasonings, and condiments. – Bring a napkin or paper towel for easy clean-up. – Check the weather forecast before heading to the beach to ensure a pleasant grilling experience. – Remember to follow beach safety guidelines and be mindful of other beachgoers. – If using a charcoal grill, make sure to properly dispose of the cooled ashes in designated areas.
Can I have a beach barbecue party?
Absolutely! Having a beach barbecue party is a great way to celebrate and enjoy the summer. Just make sure to plan ahead, bring enough food and drinks for everyone, and comply with any beach regulations regarding group gatherings.
Are there any specific grilling tips for cooking on the beach?
Yes, here are some tips for cooking on the beach grill: – Make sure to preheat the grill before placing the food on it. – Keep a close eye on the cooking time to prevent overcooking. – Use aluminum foil or grill baskets for delicate foods like fish or vegetables. – Don't forget to bring a brush for cleaning the grill grates between uses. – Have a fire extinguisher or a bucket of water nearby for safety purposes. – Bring extra fuel or charcoal in case you need to replenish your supply.
Can I use a grill on county beaches?
The regulations regarding grilling on county beaches may vary. It is recommended to check with the local authorities or beach management to determine if grilling is allowed and to familiarize yourself with any specific rules or restrictions.
What are the best beach grill ideas and tips?
Some of the best beach grill ideas and tips include: – Marinate the meat before grilling for added flavors. – Use a portable grill with a UPF 50+ rating to protect yourself from the sun. – Bring some beach-friendly side dishes like salads or grilled vegetables. – Don't forget to pack some refreshing beverages to enjoy with your grilled food. – Remember to clean up after your beach barbecue to leave the area clean and tidy.
Are there any beach-friendly grills on the market?
Yes, there are several beach-friendly grills available on the market. Look for grills that are compact, lightweight, and easy to transport. Some models even come with built-in handles or wheels for added convenience.