11 East Coast Beach Towns
The East Coast is a treasure trove of picturesque beach towns, each offering its own unique charm and sense of freedom. With pristine beaches, charming cobblestone streets, and a diverse range of activities, it's no wonder these coastal destinations are so popular among travelers. It makes me wonder, what are some of the best East Coast beach towns to visit, and what makes them so special?
So, which are some of the best East Coast beach towns to visit? Among the top destinations are Cape Cod, Nantucket, and Martha's Vineyard in Massachusetts; Newport and Block Island in Rhode Island; Charleston and Myrtle Beach in South Carolina; Outer Banks and Hilton Head Island in North Carolina; Virginia Beach in Virginia; Rehoboth Beach in Delaware; and Ocean City in Maryland. Each of these towns offers unique attractions, breathtaking scenery, and a plethora of activities for the perfect beach getaway.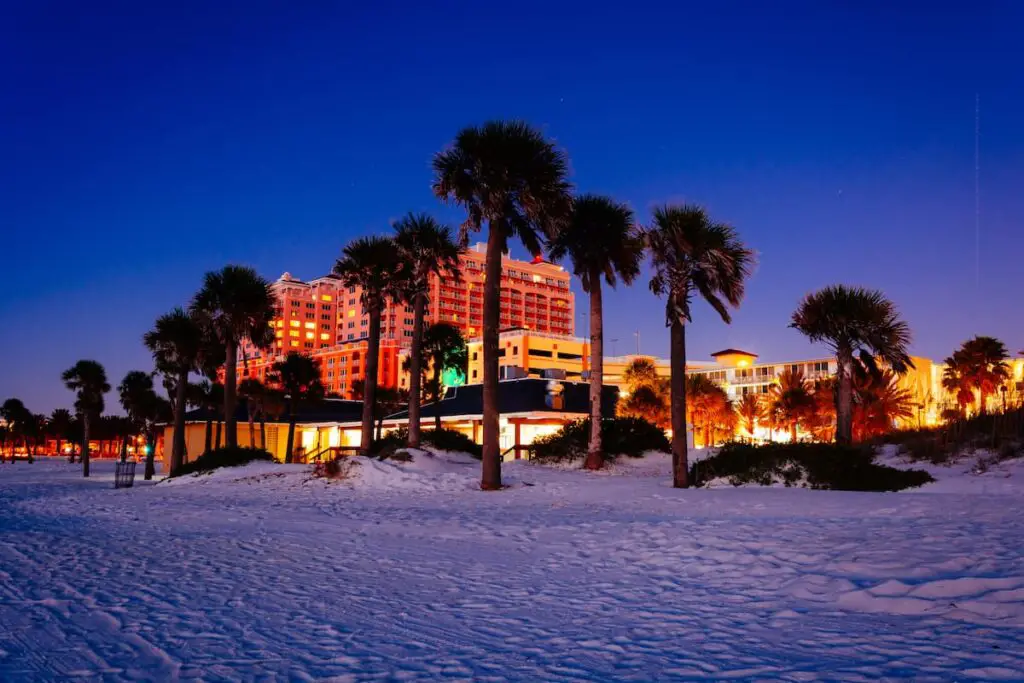 Key Takeaways‍
Cape Cod offers pristine beaches and small-town charm, perfect for beach fun and wildlife exploration.
Nantucket boasts vast beaches, a rich whaling history, and picturesque lighthouses.
Martha's Vineyard attracts visitors with its scenic landscapes, historic lighthouses, and quaint shops.
Newport, Rhode Island, is known for its historic mansions, Cliff Walk exploration, and picturesque shoreline.
Block Island offers a peaceful escape with hidden beaches, scenic lighthouses, and bicycle-friendly winding roads.
Myrtle Beach provides a mix of beach fun, lively nightlife, and energetic music, perfect for a vibrant experience.
In the following sections, I'll delve into the specific charms of each beach town, highlighting the activities, landscapes, and cultural experiences that make them must-visit destinations. From exploring the majestic lighthouses of Cape Cod to savoring the delicious seafood in Virginia Beach, there's something for everyone in these coastal paradises. So, sit back, relax, and join me as we embark on a journey through the best East Coast beach towns – it's time to rediscover the magic of the shoreline and experience the true meaning of freedom.
Table of Contents
11 East Coast Beach Towns for Lots of Beach Fun
There are many beach towns on the East Coast, all with their particular charm and attributes. Here are 11 that I've picked to describe and suggest for you to consider traveling to. Let's get started!
Charming Cape Cod, Massachusetts
Some might argue that the best beach fun can be found on the charming shores of Cape Cod, Massachusetts.
Stretched out like a flexed arm into the Atlantic Ocean, this peninsula offers miles of pristine beaches and small-town charm to satisfy any wanderer's desire for freedom.
The sun rises and sets over the horizon casting its golden glow on the sand, inviting you to explore all day long.
As you stroll along the shoreline, breathe in the salty air and savor every taste of Cape Cod cuisine – from fresh seafood plucked straight from the ocean to sweet treats served up at local dessert shops.
Venture inland for wildlife exploration as you encounter marshlands teeming with birds and other creatures who call this coastal paradise home.
And when night falls, let your spirit soar beneath a sky filled with twinkling stars as you appreciate just how perfect this east coast destination truly is for beach fun.
Scenic Nantucket, Massachusetts
Ah, Nantucket. A small island with vast beaches and a rich whaling history.
The sea surrounds you, bringing the sweet smell of freedom.
Walk the cobblestone streets and feel the echoes of days gone by. It's there in every nook and cranny, in the old captain's houses and the Nantucket lighthouses that stand tall against the crashing waves.
As you explore this charming town, let your spirit untether from those daily constraints that bind you so tightly.
Embrace your inner sailor as you venture to this picturesque haven where each sunset whispers a promise of liberty few places can match.
Picturesque Martha's Vineyard, Massachusetts
Ah, Martha's Vineyard, Massachusetts – a land of beauty and freedom. The island calls out to those seeking adventure and respite from the mundane.
With its picturesque landscapes and charming towns, it's no wonder that this East Coast gem draws visitors from far and wide.
As you explore the island, keep an eye out for:
Majestic Martha's Vineyard lighthouses standing tall amidst crashing waves
Aquinnah Cliffs exploration offering breathtaking views of the ocean
Quaint shops and galleries filled with local treasures
Mouthwatering seafood dishes that will leave you craving more
So, my friend, heed the call of Martha's Vineyard and allow yourself to be swept away by its enchanting allure.
Find solace in its natural beauty, seek adventure in its hidden corners, and discover what it means to truly be free.
Historic Newport, Rhode Island
Ah, Newport, the quintessential coastal gem steeped in history and brimming with charm. A place where time seems to stand still as you meander through its cobblestone streets, past the grandiose Newport mansions that once housed America's elite.
Can you feel it? The taste of salty ocean air on your lips as you embark on a Cliff Walk exploration, finding solace in the rhythmic sound of crashing waves below while marveling at the architectural wonders above.
Here, my friend, is where you'll discover true freedom – freedom from the monotony of daily life, from the shackles of routine. Embrace the serenity that Newport offers and let your spirit run wild along its picturesque shoreline; for in this historic haven lies a world of untold adventures waiting just for you.
Idyllic Block Island, Rhode Island
Away from the noise and haste, you find peace on Block Island. A place made for those who crave freedom. It is a small island with hidden beaches to discover, where the sun kisses your skin and the ocean whispers secrets.
As you wander around the island, you'll find beauty in the simple things:
The breathtaking view of Block Island lighthouses guiding sailors home
Long walks on quiet shores collecting beautiful seashells
Bicycle rides through winding roads surrounded by lush greenery
The enchanting sunsets that paint the sky with vibrant colors
Block Island has so much to offer when it comes to true beach fun without any pretense. The simplicity of this island paradise will make your heart swell with joy and remind you of what it means to be truly free.
Coastal Charm Of Charleston, South Carolina
Imagine the sun dipping low over the skyline, casting a golden glow on the cobblestone streets and historic homes of Charleston. Here, time slows down, and you can feel the coastal charm that has been preserved for generations.
The palmettos sway gently in the breeze as you wander through this southern gem, savoring delicate bites of Charleston cuisine at every corner. Historic plantations stretch out along the horizon, whispering tales of a bygone era filled with grandiose balls and genteel manners.
As you stroll along the Battery or dip your toes in the warm Atlantic waters at Folly Beach, let yourself be swept away by this city's undeniable allure. Relish in Charleston's rich history and captivating beauty while soaking up its tranquil atmosphere – a perfect escape to find your own freedom from life's hectic pace.
Vibrant Myrtle Beach, South Carolina
Myrtle Beach, South Carolina, is where you'll find a vibrant mix of beach fun and excitement. The sun shines warm on the sand and the waves crash in a captivating rhythm. Myrtle Beach nightlife teems with energy, as lively music spills out from bars and clubs to mingle with the ocean breeze.
You'll feel free when you stroll along the bustling boardwalk or savor mouthwatering seafood at an oceanfront restaurant. The SkyWheel spins high above it all, offering a mesmerizing view that stretches far over the sea.
Family friendly activities abound, such as mini-golf courses adorned with towering pirate ships or whimsical dinosaurs. The thrill-seekers can brave daring roller coasters or race down waterslides in one of the many amusement parks.
Embrace your desires for freedom – come to Myrtle Beach and let loose, immersing yourself in this coastal playground teeming with adventure, laughter, and unforgettable memories.
Tranquil Outer Banks, North Carolina
We can soak up the sun on the beaches of the Outer Banks in North Carolina; there's nothing like laying out in the sun, feeling the sand beneath your feet.
Taking a relaxing beach walk is also a great way to enjoy the area, with the sound of the waves crashing in the background.
If you're feeling adventurous, explore the wild dunes and get lost in the beauty of nature.
Soak Up The Sun
There's nothing quite like the feeling of warm sand between your toes as you stroll along the serene shores of Tranquil Outer Banks, North Carolina.
Here, the sunbathing spots are plentiful and inviting, beckoning you to lay down your towel and bask in the golden rays of sunshine.
The beach activities are endless; whether you're splashing in the waves or playing a game of beach volleyball with newfound friends, there's an undeniable sense of freedom that comes from embracing life by the sea.
Lose yourself in this idyllic paradise and create memories that will last a lifetime, all while soaking up the sun on these pristine shores.
Relaxing Beach Walks
As the sun sets and the sky turns to a canvas of pink and orange hues, there's no better way to unwind than by taking peaceful strolls along the shoreline.
You'll find yourself surrounded by nature's beauty, with only the sound of crashing waves and your own thoughts as company, allowing you to escape life's stresses and embrace true freedom.
These sandy escapes become an essential part of your stay here in Tranquil Outer Banks, providing you with moments of solitude that are both rejuvenating and spiritually enriching.
The gentle ebb and flow of the ocean will be a constant reminder that life is ever-changing; just as each wave leaves its mark on the sand before receding, so too will this unforgettable experience leave a lasting impact on your heart.
Explore The Wild Dunes
As you continue to explore Tranquil Outer Banks, North Carolina, don't be surprised if the call of the wild dunes beckons you.
It's here that you'll find a new sense of adventure, exchanging your peaceful shoreline strolls for thrilling dune escapades.
They're untamed and mysterious, offering endless possibilities for wildlife encounters and a chance to experience nature as it was meant to be – raw and unfiltered.
You'll feel like you've been transported to another world, where freedom reigns supreme and life's constraints seem distant memories.
So go on, lose yourself in the wild beauty of these ever-shifting sands; it's an experience that'll stay with you long after your footprints have vanished from the earth.
Captivating Hilton Head Island, South Carolina
Did you know that Hilton Head Island, South Carolina boasts over 250 species of birds? It's true. The island wildlife is remarkable and draws people from all over.
The beaches stretch for miles, and the sand feels like silk beneath your feet. As you walk the shore, you'll see dolphins dancing in the waves, welcoming you to their playground.
Freedom sings from every corner of this enchanting island. But it's not just about the beach; Hilton Head is also a golfing paradise.
With over 20 championship courses designed by legends like Nicklaus and Fazio, there's a challenge waiting for everyone who loves the game. After conquering the greens, grab your bike or kayak and explore the land where freedom thrives – a place that calls to adventurers and dreamers alike.
So go on, answer that call and dive headfirst into an experience unlike any other at captivating Hilton Head Island, South Carolina.
Lively Virginia Beach, Virginia
Head to Virginia Beach for some of the best beach fun around!
With its vibrant restaurants, energetic nightlife, and bustling boardwalk, it's sure to be a memorable experience.
You won't want to miss the delicious seafood, exciting night spots, and the classic sights along the boardwalk – it's all part of the Virginia Beach experience!
Restaurants
You'll find that there's more to Lively Virginia Beach, Virginia than just the sun and sand.
It's a place where you can truly indulge in life's simplest pleasures, like savoring delicious seafood delights with friends and family.
With an abundance of beachfront dining options available, finding the perfect spot is no challenge at all.
So take your pick from casual eateries to upscale restaurants, each one offering a unique atmosphere that captures the essence of freedom you crave while enjoying your meal by the ocean.
And as you watch the waves gently crash upon the shore, remember that this is what it means to embrace life – good food, good company and endless possibilities for adventure.
Nightlife
But the excitement doesn't end when the sun sets over Virginia Beach. In fact, it's just getting started.
The nightlife here is as lively as the waves that dance onshore, inviting you to let loose and immerse yourself in freedom.
You'll find beach bonfires where laughter and stories are shared under a canopy of stars, while moonlit strolls offer moments of tranquility amidst the sound of crashing waves.
From vibrant bars to live music venues, there's something for everyone.
So gather your friends and embrace the night – because in Virginia Beach, the possibilities for adventure are as boundless as the ocean itself.
Boardwalk
As you wander the lively Virginia Beach, you can't help but be drawn to the iconic boardwalk, where endless amusements await.
It's a place that beckons you to stroll along its wooden planks, discovering attractions and entertainment as varied as the people who visit.
You'll find yourself sharing smiles with street performers and artists, while the ocean's gentle song reminds you of life's simple pleasures.
The boardwalk is an ever-changing tapestry of sights, sounds, and experiences – a testament to the freedom that lies at the heart of this vibrant coastal city.
So take a step onto this winding path and let your spirit soar; for every footfall on the boardwalk brings with it new adventures yet to be revealed.
Serene Rehoboth Beach, Delaware
Rehoboth Beach, a gem on the Delaware coast, calls to those seeking freedom and blissful beach fun. The town's beauty lies in its simplicity; there's no need for lavish resorts or crowded boardwalks to distract from what truly matters – the sun, the sand, and the waves.
Immerse yourself in Delaware cuisine at local joints like Dogfish Head Brewings & Eats and Henlopen City Oyster House. Rehoboth nightlife offers variety while retaining that laid-back coastal vibe. Here are three must-visit spots:
Funland – A classic amusement park for kids of all ages with a nostalgic touch.

Rides: Sea Dragon, Paratrooper, Freefall

Attractions: Haunted Mansion, Mermaid Cove

Games: Whac-A-Mole, Break-A-Plate

Gordons Pond Trail – A scenic walk through wetlands and forests offering birdwatching opportunities.

Flora: Red Maple Swamp Forest, Pine-Oak Woodland

Fauna: Snowy Egrets, Bald Eagles

Views: Atlantic Ocean, Gordons Pond

Rehoboth Art League – An artistic oasis showcasing local talent in galleries and workshops.

Exhibits: Regional Juried Exhibition, Annual Members' Fine Art Exhibition

Classes: Ceramics Studio Sessions, Watercolor Workshops

Events: Outdoor Show & Sale
So when you feel the call of the ocean breeze and yearn for freedom from the mundane world of daily grind – remember Rehoboth Beach awaits you!
Sun-Kissed Ocean City, Maryland
Leaving behind the tranquility of Rehoboth Beach, we venture south along the coast to find ourselves in sun-kissed Ocean City, Maryland.
Here, the sand stretches as far as the eye can see, and freedom calls from every crashing wave.
The salty breeze carries laughter across Maryland's boardwalk, a lively stage for both young and old seeking adventure.
Oceanfront dining tempts with fresh catch and cold drinks, while surfers carve through waves like painters on canvas.
As day turns to night, bonfires illuminate sandy gatherings where stories are shared under a blanket of stars.
In this place where the land meets the sea, one cannot help but feel alive and boundless.
Personal Thoughts and Experiences About ‍East Coast Beach Towns
Living in San Diego as a teenager, I've experienced the charm of small beach towns, just like those mentioned in this article on East Coast beach towns. Indeed, except for some vacations in Jacksonville, Florida and some business trips to Miami, most of my travel to beach towns have been in California and Oregon.
I've always dreamed of traveling to these picturesque destinations for short vacation getaways, as they offer not only beauty and relaxation, but also affordability. The allure of Cape Cod, Nantucket, and Martha's Vineyard have captured my imagination, and I can't wait to create more beach memories in these enchanting places.
If I had the opportunity to travel to some of the East Coast beach towns, I would definitely visit Cape Cod, Massachusetts, for its pristine beaches and delicious seafood. I would also explore Nantucket, as I am captivated by its rich whaling history and picturesque cobblestone streets.
At Martha's Vineyard, I'd relish the chance to see the Aquinnah Cliffs and enjoy the local seafood dishes. In Newport, Rhode Island, I would take a scenic walk along the Cliff Walk, and finally, I'd unwind on the tranquil beaches of Block Island, collecting seashells and watching enchanting sunsets.
Frequently Asked Questions
What Are The Most Affordable Beach Towns On The East Coast For Budget-Conscious Travelers?
Imagine the salty ocean breeze in your hair and the sand between your toes, as you watch the sun set on a perfect day of beach fun. That dream can become a reality for budget-conscious travelers who venture to the most affordable East Coast beach towns.
Places like Myrtle Beach, South Carolina, where budget friendly dining and coastal nightlife merge with miles of sandy shoreline waiting to be explored.
Or perhaps Virginia Beach, where family-friendly activities keep everyone entertained without breaking the bank.
The freedom of knowing that every sunrise brings new adventures and every sunset leaves memories etched in our hearts is priceless.
So pack up your sunscreen and beach towel to discover these hidden gems that will leave both you and your wallet feeling full and satisfied.
Are There Any Unique, Lesser-Known Beach Towns On The East Coast Worth Exploring For A More Off-The-Beaten-Path Experience?
Yes, there are hidden gems on the East Coast where you can delve into local culture and experience off-the-beaten-path beach towns.
These lesser-known spots offer a sense of adventure and freedom that's hard to find in more popular destinations. You'll feel the sand between your toes as you wander down quiet shorelines, explore quaint shops and dine on fresh seafood caught by local fishermen that very morning.
So why not venture beyond the usual tourist traps and discover something new? After all, sometimes it's the road less traveled that leads to the most unforgettable memories.
Which East Coast Beach Towns Offer The Best Opportunities For Water Sports And Outdoor Activities, Such As Surfing, Kayaking, Or Paddleboarding?
You'll find a world of endless adventure at East Coast beach towns that cater to water sports enthusiasts, offering an unparalleled experience for those seeking the thrill of the great outdoors.
Surfing hotspots like Montauk and Wrightsville Beach boast powerful waves and an electrifying atmosphere, perfect for both seasoned surfers and eager newcomers.
For kayaking adventures, explore the serene beauty of Cape Cod's marshlands or embark on a journey through South Carolina's Lowcountry waterways.
Paddleboarding aficionados can glide along the calm waters of Rehoboth Beach in Delaware or traverse Virginia Beach's coastal inlets.
In these captivating destinations, you'll feel a profound sense of freedom as you ride the cresting waves, navigate winding rivers, and conquer the vast expanse of nature's aquatic playground.
How Do These East Coast Beach Towns Compare In Terms Of Their Accessibility Via Public Transportation, Such As Train Or Bus Services From Major Cities?
In the great dance of beach town comparison, public transportation options play a vital role in our quest for freedom and adventure.
As we seek the sun-kissed shores and rolling waves, these towns open their arms wide to welcome us, with trains and buses bridging the gap from bustling cities to sandy serenity.
From the surfer's paradise at Montauk, easily reached by Long Island Rail Road or Hampton Jitney, to the charming cobblestones of New England's Nantucket, just a ferry ride away from Hyannis' CapeFLYER train connection – each destination offers its own rhythm for ease of access.
So cast off your city shackles and embrace the coastal life; let the hum of engines carry you towards that sweet escape by sea or shore.
Are There Any Pet-Friendly Beach Towns On The East Coast, Where Dogs Are Allowed On The Beaches Or In Accommodations?
Discovering a pet-friendly beach town on the East Coast is like uncovering a hidden gem, where both you and your four-legged friend can revel in the sun, surf, and sand.
Many towns not only welcome dogs on their beaches but also offer pet-friendly accommodations, ensuring a memorable getaway for all.
In these coastal havens, enjoy pet-friendly dining at local establishments that cater to your canine companion's needs while you savor fresh seafood.
Explore dog-friendly parks together, letting your pup frolic in the open air as you both breathe in the salty breeze.
A trip to an East Coast beach town with your furry friend is an adventure that satisfies your shared desire for freedom and delivers unforgettable memories along the way.
Conclusion
In the end, exploring East Coast beach towns is like opening a treasure chest of seaside gems. Each town offers its own unique charm and attractions, catering to different tastes and budgets.
So whether you're seeking thrilling water sports or a cozy, pet-friendly getaway, the East Coast has got you covered. Don't shy away from discovering these coastal havens – pack your bags, grab your sunscreen, and dive into the myriad of unforgettable experiences waiting for you by the shore.