So this is the summer you plan to go for that dream beach location. You have your budget, time off from work, and now you start to look for a beach hotel on the shore. Shock… the prices are through the roof! Why are these beach hotels so expensive?
In general, beach hotels are in high demand almost year-round and can charge high rates. As a result, they are more attractive than other hotels, especially during the summer months. Additionally, beach hotels are more popular than other hotels because they offer more amenities like easy beach access, beach sports activities, and even a swimming pool.
The demand for beach resorts is usually higher than other accommodations in an area. It's frustrating…how can beach hotels be so expensive while still being popular? It seems beach hotels are different from other hotels and therefore cost more. Not only that, the holiday season, mostly during the summer months, saw an increase in prices as well. (Source)
Beach resorts often provide amenities that many people want, such as beach services like sunbeds, chairs, and umbrellas to make the visitor's beach time more comfortable.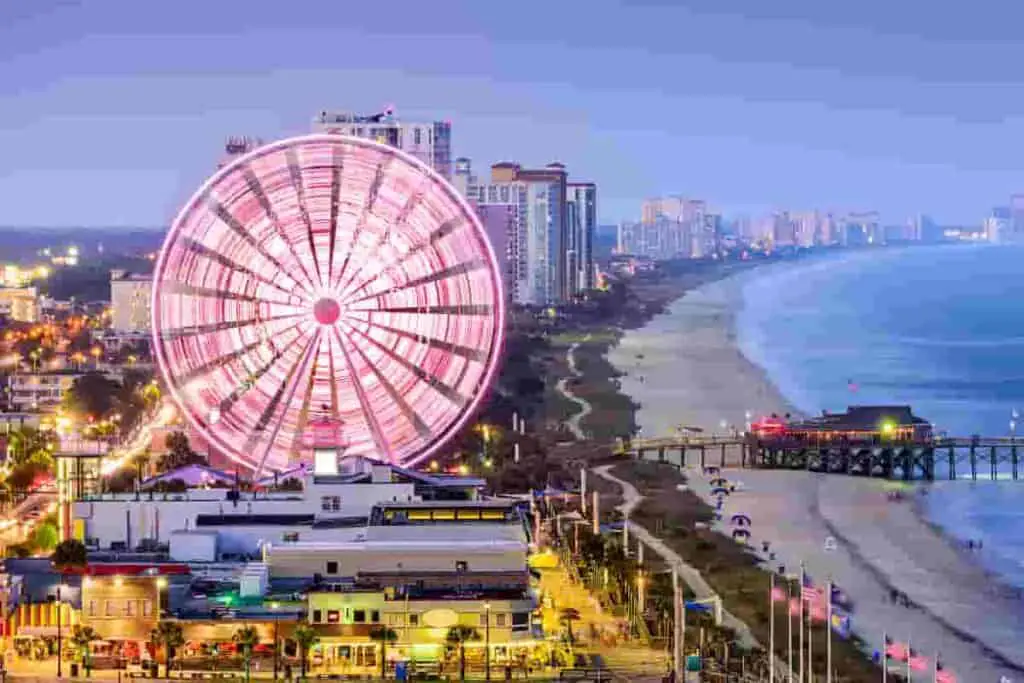 In this article, I'll go over in detail some of the key reasons beach resorts are more expensive, why beachfront resorts are even more so, and how to find beach hotels off-season for a better price. I'll also look at a few scenarios using profiles that perhaps you can relate to Jack, Sara & Jake, Judy & Ben. 
Reasons Why Hotels Are So Expensive
It's common in the travel industry that hotel rates for 5-star hotels and the cheapest hotel prices will vary depending on the services provided. These are not secret, however, if you are not in hotel management or real estate, you might not know of them.
Hotel rates also rise and fall depending on the season. The average price of a beach hotel room is pretty high. But why is that? Here are eight reasons why beach hotels cost so much.
1. Location – Beach hotels are usually located near beautiful beaches. That means that they are often very popular among tourists. Because of this, they tend to charge a premium rate.
2. High Demand – Because these hotels are so popular, they quickly fill up. It means that when you book a room, you need to act quickly. Otherwise, someone else will beat you to it.
3. Amenities – Many beach hotels include pools, gyms, spas, restaurants, bars, etc. These things add to the overall cost of staying at a hotel. These amenities are expanded and made even more luxurious for beachfront hotels (more about that below).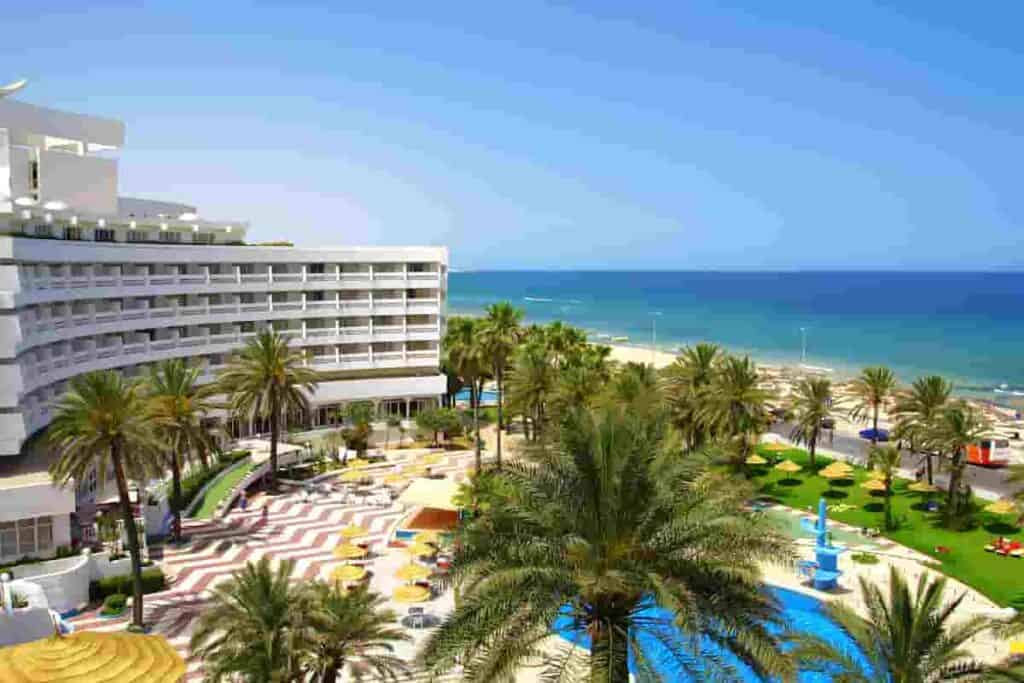 4. Taxes – Hotels are required to collect taxes from guests. It adds to their costs.
5. Luxury – Most beach hotels are luxury resorts. They cater to wealthy travelers who expect top-quality service.
6. Star Rating – generally speaking, the higher the star rating of a hotel, the more expensive it will be.
7. The Cost of Real Estate – Hotels require a lot of space – often an entire building or multiple buildings – and the land cost in prime locations is high.
8. Labor Costs – Hotel staff are typically paid a livable wage with benefits, unlike many other service-industry jobs.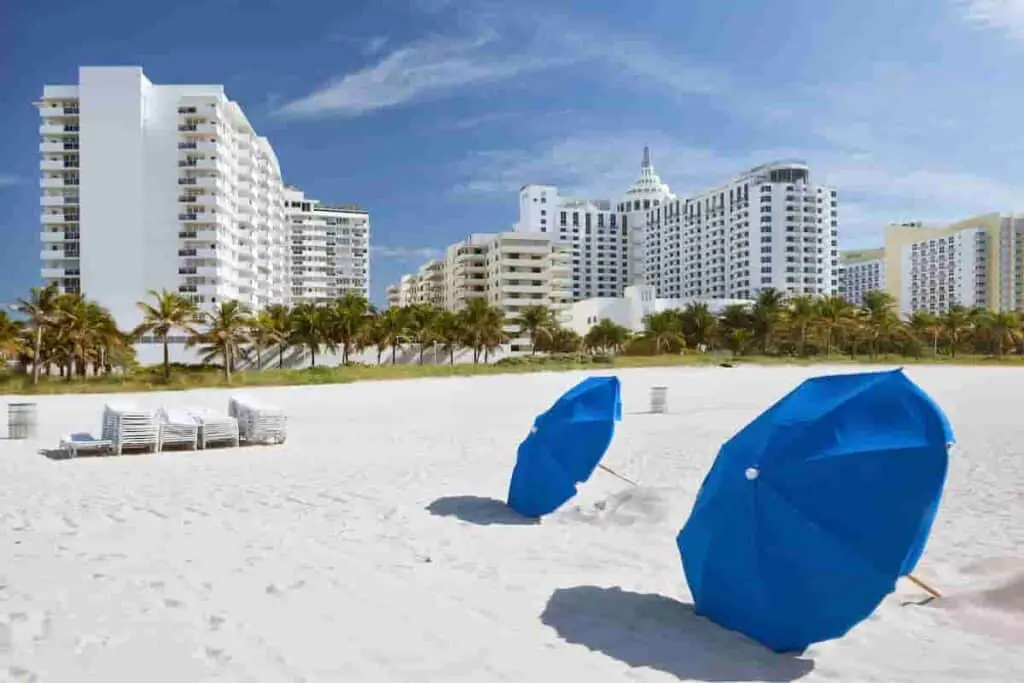 Taking a Closer Look at Location and Amenities
The location has a big impact on hotel rates being higher. It can make the cost of a beach vacation, including travel, a barrier to going. Beach hotels will be located in places with a beach near the center of town so that beach-goers can easily access shops, entertainment venues, restaurants, etc. 
These beach locations are usually very desirable to beach-goers who want to stay in a hotel by the sea. To keep demand high for beach hotels, beach hotel prices tend to go up as beach hotels continue to be popular.
Hotels offer many amenities to their guests. Most hotels will include basic room facilities such as a fridge, coffee maker, television with cable, shampoo, and towels. Many also have an outdoor swimming pool, parking, dining options, and entertainment activities. 
If you stay in a hotel that offers beach service, you may be able to rent umbrellas and sunbeds from the hotel. You may also get free drinks during the day. Some beach amenities include beach water activities. 
Visitors can enjoy swimming, surfing, fishing, snorkeling, diving, boating, and many other water-related activities with some services included (like towels or activity instruction).
Beach Hotels in the Summertime
Beach hotels are often booked during the summer months rather than other times of the year. It's not unusual that this happens as hot weather is best for the beach. As a result, beach vacations are a favorite pastime among vacationers and beach-goers alike. 
The high demand for beach hotels in the summer months results in beach hotels being just as popular as beach resorts.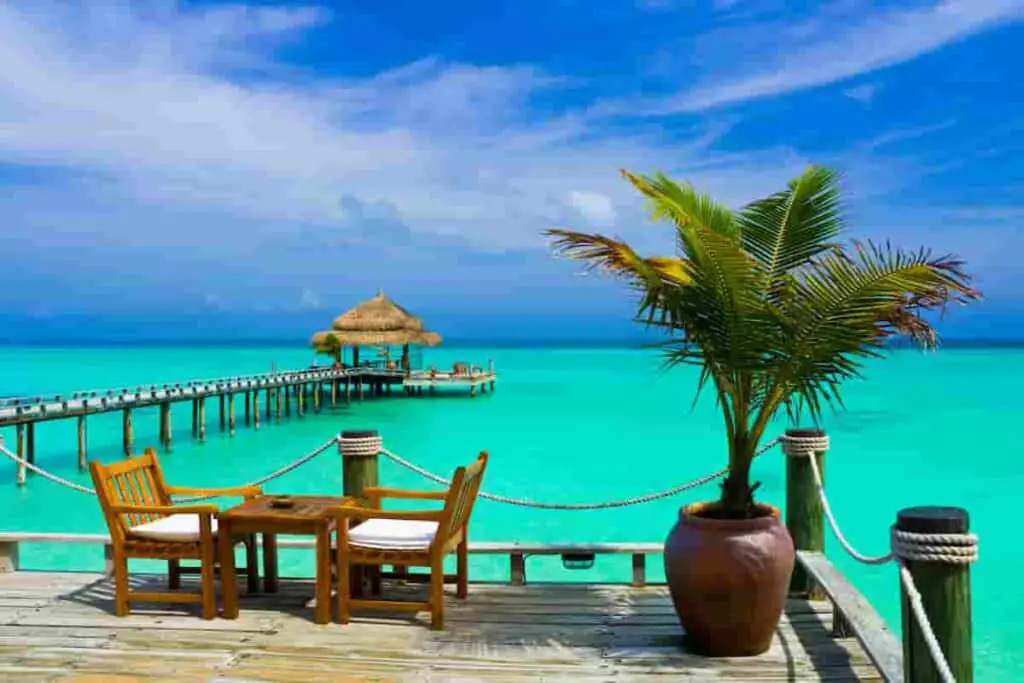 Choosing a Beach Hotel – Tradeoffs 
Many of the tradeoffs in choosing a beach hotel will come down to location and amenities, which, as explained above, impact the cost. 
Let's take the example of Jack, 50 years old and a remote worker in sales, who decided to spend a month in the Bahamas. He will work remotely for two weeks from his hotel room, and the other two weeks will be a full vacation. 
Jack decides that having a beach hotel is most important to him to go to the outdoor pool easily, but that at least for the first two weeks when he is working, the amenities are not as important. He chooses a balance between a hotel near the beach and medium amenities. 
Why Are Beach Front Hotels so Expensive?
Beachfront hotels are expensive because they offer a unique and luxurious experience that cannot be found elsewhere. These hotels often provide exclusive access to private beaches, known for their stunning scenery and clear waters. 
They also offer a wide range of luxury amenities and services, which cater to the needs of their affluent guests. They are more expensive because they offer a unique and desirable experience that other hotels cannot replicate. Additionally, they offer a view of the ocean and easy access to the beach, which many people find appealing. (Source)
Location is Even More Important
For some people, if they travel to a beach location (like Hawaii or Bora Bora, for instance), they want to be right on the beach at a beach resort. It kind of goes with the vacation. People on vacation also want to easily access the beach to go every day on their holiday.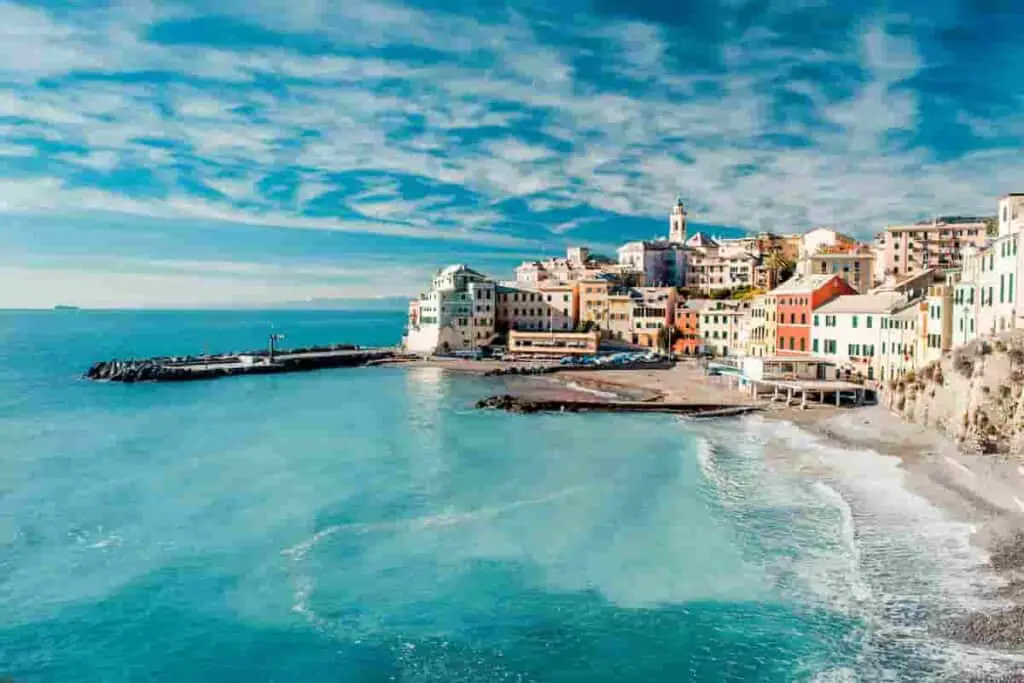 When The Beach Front Matters in Your Choice
Let's take a look at another scenario profile. Sara and Jake are a couple with two children, and they decide to go to Hawaii for a family vacation. They have been saving up for the vacation, and even with Covid-19 impacting travel plans and services, they have still decided to go. 
As they have planned a long time to go to Hawaii, and the likelihood of going again in the near future is not a high possibility, they decide that if they go, they want to be in a popular beachfront hotel resort, where access to the beach is easy for the kids. 
Private Beach Front Resorts
A private beach resort is a hotel that offers its guests the opportunity to spend their vacation at a secluded location where they can enjoy the beauty of nature without being disturbed by anyone else. 
These resorts usually offer a variety of amenities and services that allow their guests to relax and unwind. They may also include a swimming pool, spa, gym, tennis courts, sauna, and even a golf course.
The cost of a private beach resort depends on the type of accommodations offered. Some resorts offer only basic rooms, while others offer suites that include living areas and bedrooms. Some resorts offer only a small number of rooms while others offer hundreds. (Source) Here are a few more reasons:
*Beachfront hotels are more expensive
*Offer a unique and luxurious experience
*Provide exclusive access to private beaches
*Offers a wide range of luxury services and amenities
*More expensive because they offer a view of the ocean and easier access to the beach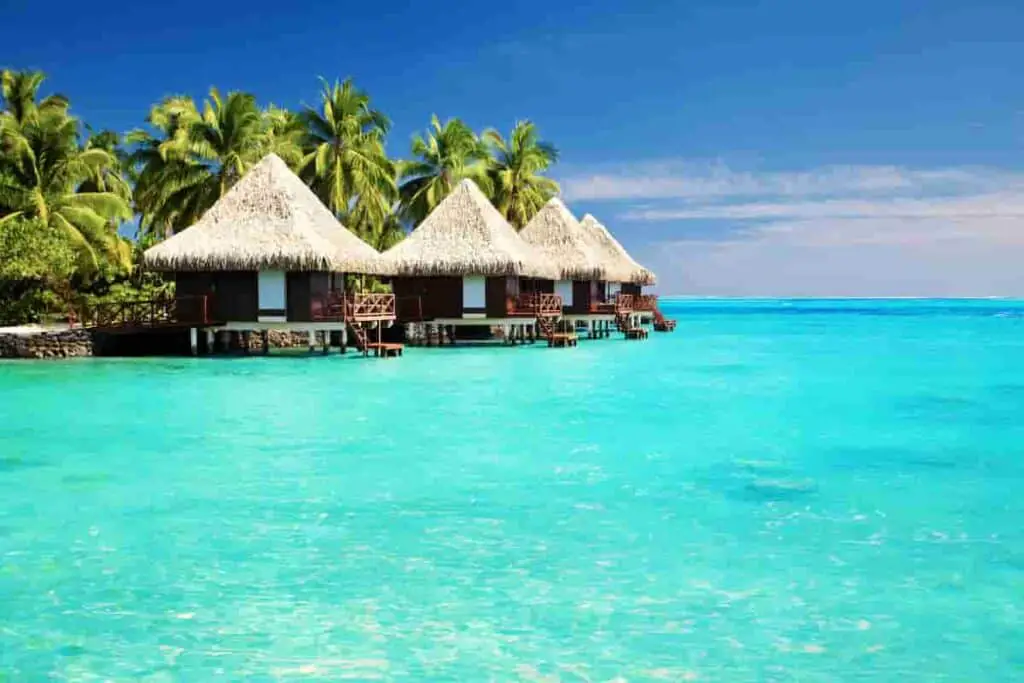 Choosing Beach Hotels Off-Season – How To Do It 
As price increases are predictable in certain cases, you can look for hotel deals from many sources, from your local travel agent to online websites. In this way, you can monitor the increase in prices and plan accordingly. 
Travel companies often work with travel websites, offering travel tips, domestic travel, and international destinations with favorable and discounted prices. The travel demand is constant throughout the year, but the summertime months are especially busy. 
If you're looking to save a bit of money, choosing a beach hotel off-season may be the way to go. Here are some tips for finding and booking a beach hotel offseason:
*Check out local newspapers or tourism websites for deals on popular destination beach hotels during the off-season. The current travel demand may be high, but you may find discounts on rooms, food, and even activities like fishing or golfing.
*Compare prices on different booking sites like Hotels.com, Priceline, or Expedia to find the best deal on your dream beach hotel during the holiday season or preferably off-season
*If you don't mind smaller towns or less-developed areas, consider looking for a beach hotel in an off-season location. You may find more affordable rates and smaller crowds.
*Ask friends or family if they know of any good deals on beach hotels in the off-season. They may have connections to local businesses to help you save money on your vacation.
*Book well in advance to get the best deal on a beach hotel during the off-season. Many hotels offer discounts for early bookings, so don't wait until the last minute to get some cheap travel!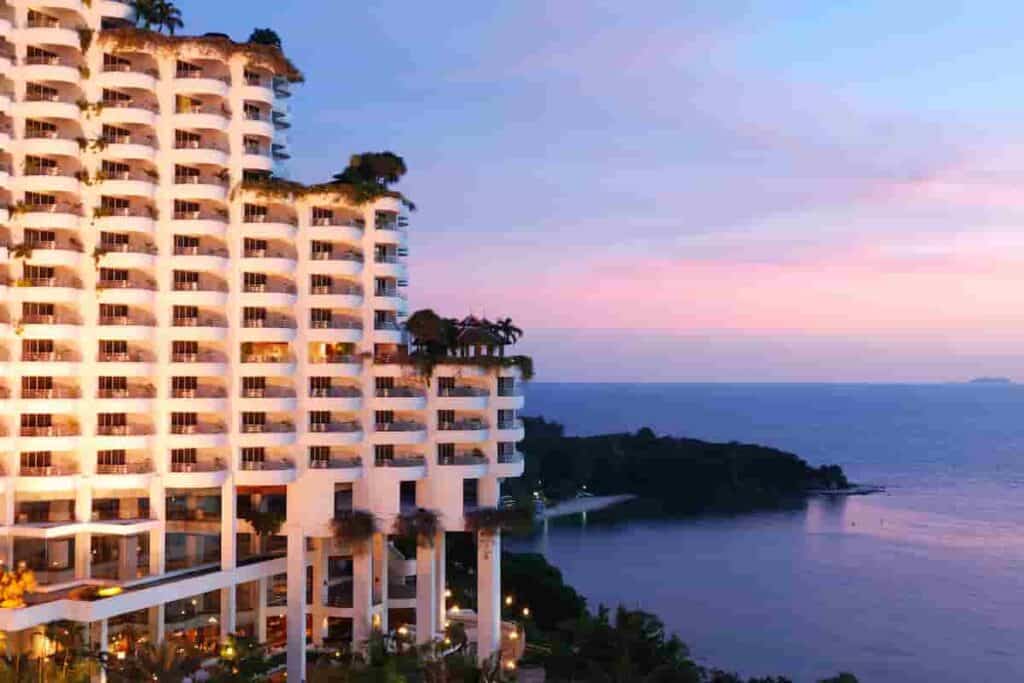 Consider the case of Judy and Ben, a newly retired couple in their 60s, who now have time to get away for months at a time. In planning their trip to Barcelona, Spain, they chose to find some hotels off the main beachfront to save money. 
Additionally, they didn't need direct access to the beach as that was not the only reason to go to Barcelona. They wanted to do some hiking in the mountains. As a result, they could find a lower-cost hotel near the beach and the mountains that suit their needs well. 
Final Thoughts      
Staying in a beach resort can give a lot of fun and relaxation. Unfortunately, beach hotels are almost always more expensive than other types of accommodation during the busy summer travel season. I have covered the main reasons here, and I hope you will use some tips to avoid paying so much. Also, as I have mentioned, the options depend on your situation and preferences, so if you are only going to Bora Bora once in your life, you can save a bit more to have the beach experience you want right on the beachfront.