Key Takeaways
Tarragona, Spain boasts stunning beaches, rich history, and beautiful architecture, attracting numerous tourists each year.
Playa del Milagro offers golden sand, calm waters, and close proximity to Tarragona's historical city center.
Playa Larga is a 2.7 km long beach with fine sand, ideal for families and perfect for beach sports and activities.
Cala Fonda, also known as Waikiki Beach, is a secluded, pristine beach accessible only via a hiking trail.
Cala Romana is a small, picturesque cove with crystal-clear waters, popular among locals and well-suited for snorkeling.
Platja de la Móra is a Blue Flag beach, offering excellent facilities, lifeguards, and accessibility for disabled visitors.
Tarragona, Spain, is one of Spain's coastal cities that remains a hidden gem to people outside Europe. Tourists flock to Tarragona and its beaches to enjoy all it offers, from the breathtaking nature to the way it caters to children, adults, and everyone in between. This coastal destination offers a variety of things to see and do, making one wonder: what are the top 6 beaches in Tarragona, Spain?
So, what are the Tarragona Spain beaches worth visiting? In general, Platja de la Cala Crancs, Playa de La Pineda (Vilaseca), Savinosa Beach, Llarga Beach, Playa de la Mora, and Beach Altafulla are excellent beaches to visit. A few of them are within walking distance or just a short foot promenade from the city center, and most have amenities and services. These beaches boast sandy shores, scenic sights, and are surrounded by beautiful pine trees.
So, what are the Tarragona Spain beaches worth visiting? In general, Platja de la Cala Crancs, Playa de La Pineda (Vilaseca), Savinosa Beach, Llarga Beach, Playa de la Mora, and Beach Altafulla are excellent beaches to visit. A few of them are within walking distance or just a short foot promenade from the city center, and most have amenities and services. These beaches boast sandy shores, scenic sights, and are surrounded by beautiful pine trees.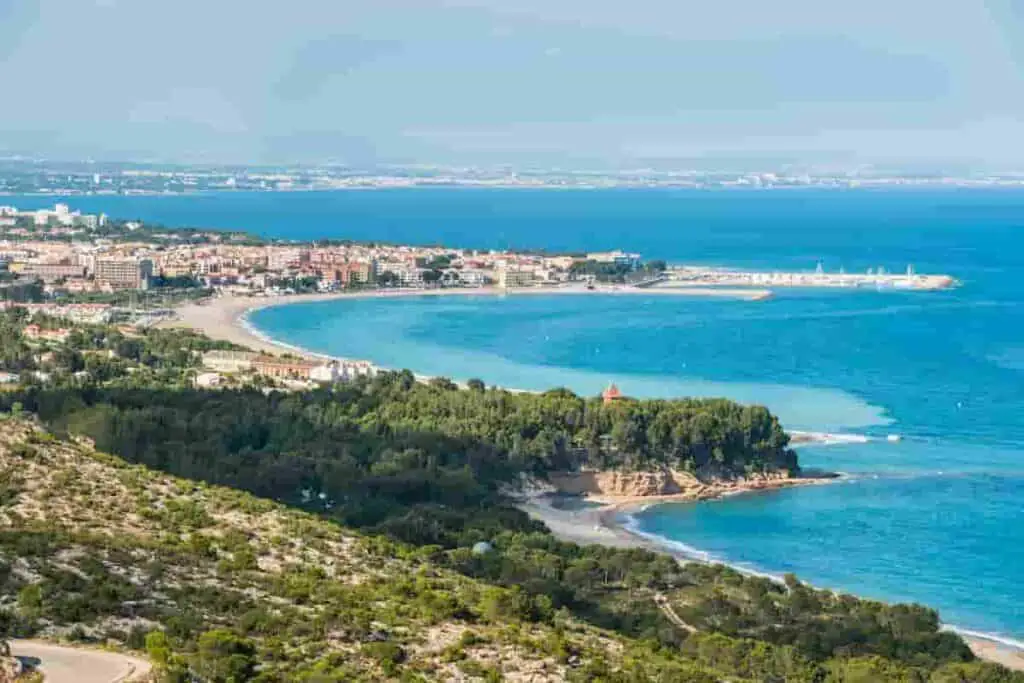 Table of Contents
Tarragona is an ancient town in Spain, with a long history dating back to the 5th century BC. It was once an important Roman city that played an integral role in Western civilization development. It still boasts many fascinating historical landmarks and monuments that attract worldwide history buffs. On September 11, 2017, Tarragona officially became Spain's first UNESCO World Heritage City.
But what about the beaches? There's a lot to say about the beaches in Tarragona. So let's get started! Keep on reading!
What Kind of Beaches Does Tarragona Have?
Tarragona beaches have a typical beach and cove layout and consist mostly of fine sand with small pebbles. The water is clear, and most of the beaches have lots of people during the summer season. Some beaches are within walking distance from the center of town and have many restaurants and bars for children and adults alike to enjoy a refreshing, round of refreshments.
The thing about the beaches in Tarragona is that they have many beach coves or small beaches with a cove. Interestingly, coves are protected by narrow entrances. "Coves usually have narrow, restricted entrances, are often circular or oval, and are often situated within a larger bay," according to Wikipedia. (Source) 
If you're looking for a place to enjoy some sun and sand, Tarragona is the destination for you! The city boasts a few beautiful beaches that are well-maintained and perfect for swimming, sunbathing, and relaxing.
However, it's important to note that some parts of the area have been affected by pollution. So if you're looking to take a dip in the ocean, check the water quality first!
Does Tarragona Have Nice Beaches
Yes, Tarragona has some lovely beaches. This particular beach is a sand-covered area about three kilometers away from the city center of Tarragona. What makes Tarragona unique in Europe, though, is its variety of beaches – something for everyone!
Platja de la Cala Crancs, Playa de La Pineda (Vilaseca), Savinosa Beach, Llarga Beach, Playa de la Mora, and Beach Altafulla
Make Sure You Visit These Beaches in Tarragona
Here's a list and description of six beaches that will give you a fun and exciting experience. Check out these key six and also explore the expanded list of beaches. Click the map image below or follow this link to an interactive Google Map of Tarragona beaches.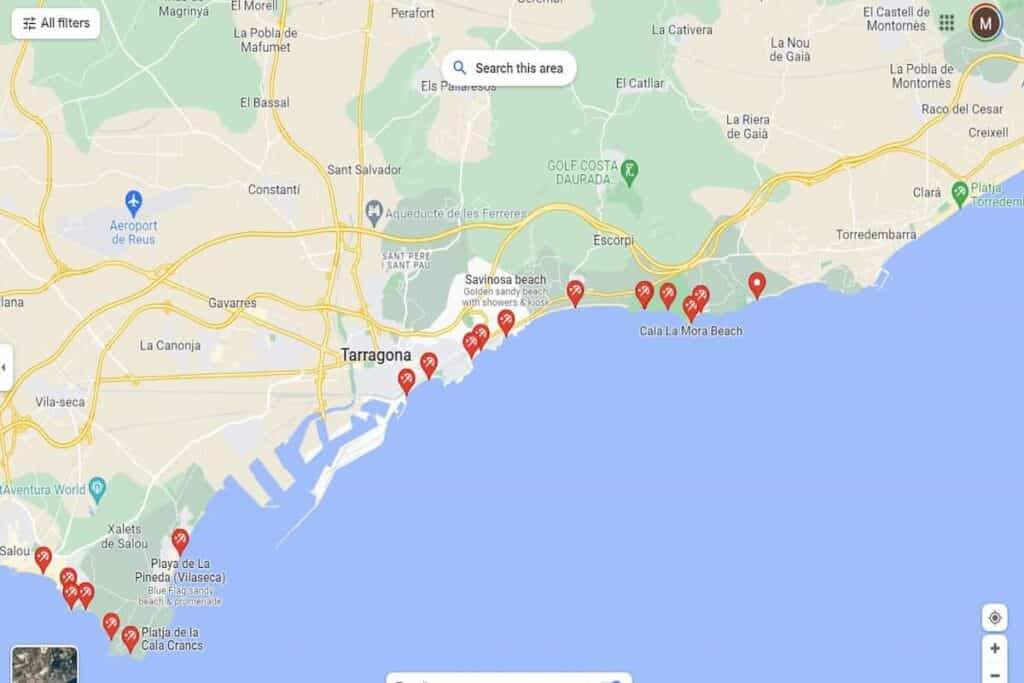 Click the red or green umbrellas to get a view of the beach and, if you're interested, you can even read the many reviews of the beach. So, by the end of your visit, you'll have experienced the best of what Tarragona has to offer.Let's dive in further to the beaches in Tarragona, where you can find stunning locations like Cala Jovera along the golden coast.
Google maps interactive Tarragona spain beaches Click the Map to open an interactive map on your browser and check out the beaches around Tarragona Spain, including the beautiful village of Cala Jovera.
Tarragona Spain Beaches – A List of 6
Platja de la Cala Crancs
This beach is located near the city centre and is perfect for those who want to relax and unwind, with birds often seen on the side. It's a small sandy beach cove with turquoise waters and golden sand. The entrance to the sea is very smooth. There are loungers, umbrella rentals available, and a beach restaurant where you can eat while watching the waves roll in. There's a lifeguard on duty during seasonal summer, and the beach has a reasonable width for comfortable enjoyment.
Playa de La Pineda (Vilaseca)
La Pineda Beach is one of the largest beaches in Tarragona, Spain. It's also known as Playa de la Pineda, and there's a good reason for its popularity.
This beautiful beach is located in Vilaseca, Tarragona, Spain, divided into three sections. These sections are called the beach Meadows, the corner of Pine, and the port zone.
There are many restaurants and bars around the beach, and it's normally busy with lots of people. It makes it a popular place for families to visit.
The beach is blue flag certified, which meets the strict environmental standards of the Blue Flag Foundation.
You can see why this is such a popular spot!
Savinosa Beach
La Savinosa is a Blue Flag awarded beach located in Tarragona, Spain. This secluded and unspoiled beach is a natural haven with crystal clear waters. It's also perfect for disabled access with parking and toilets nearby. The long sandy beach stretches over three kilometers, so there's plenty of space to relax and enjoy the stunning views.
Llarga Beach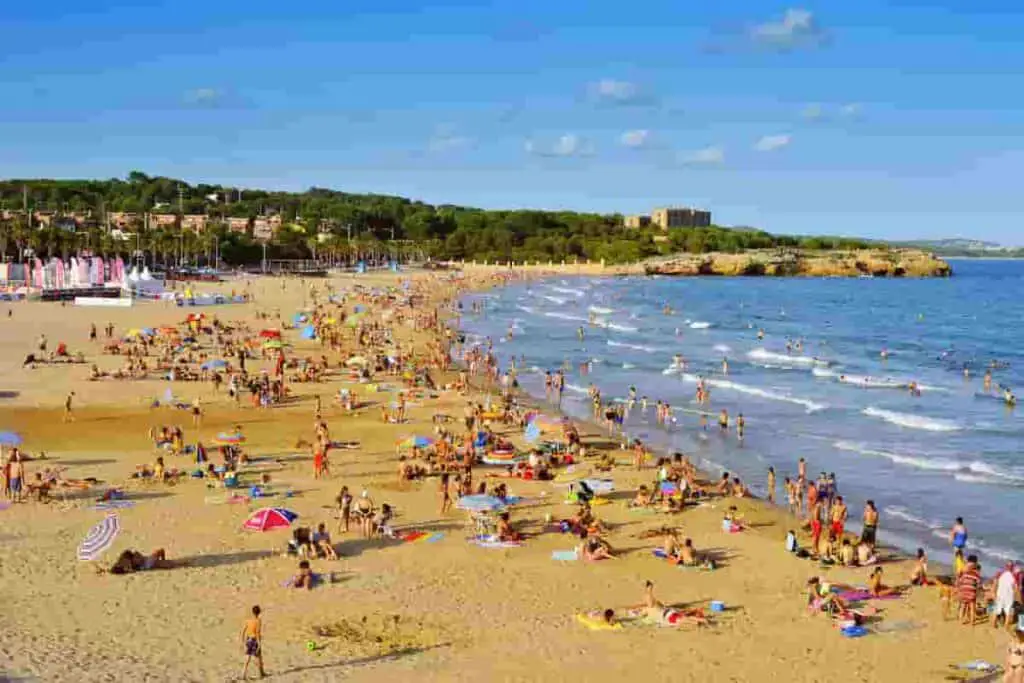 Playa Larga is a long, three-kilometer beach located in a peaceful natural area with calm water, great for swimming and diving. The beach has the main facilities to make it easy for visitors to enjoy their time there. The name of the beach is Larga. The beach is long but has a nearby urban area, which does not affect its purity. Larga Beach has an average depth of 3m and features ample parking space, making it popular with tourists in Tarragona.
Playa de la Mora
Playa La Mora is 520 meters long and 65 meters wide. This beach has toilets, showers, refreshments, a parking area, lifeguards, and rental services for sunbeds or parasols. The Golf Club Costa Daurada is just 2.5 kilometers from this beach, with 18 holes and a swimming pool.
Beach Altafulla
If you're looking for a great beach to spend your vacation on, look no further than Altafulla in Tarragona. This town has a long, wide beach perfect for swimming, sunbathing, and playing volleyball. There are also restaurants and cafes on the beach to enjoy lunch or drinks with water views. The beach has been awarded a Blue Flag for its amenities, including disabled access.
Starting at the top right (with the green and red umbrella markers) Other beaches and coves in Tarragona as seen on the Google interactive map above are, including the enchanting village of Cala Jovera nestled on the side of the golden coast.
*Platja Torrembarra
*Platja de Tamarit

An excellent destination for windsurfing enthusiasts, this beach offers perfect conditions to ride the waves.
*Playa de la Mora
An excellent destination for windsurfing enthusiasts, this beach offers perfect conditions to ride the waves.
*Cala de la Roca Plana
Discover the lush vegetation surrounding this secluded and picturesque beach area.
*Platja de l'Arbocar
Take a break from swimming to enjoy the delicious beach cafes nearby, offering refreshing drinks and tasty treats.
*Platja del Miracle
Plan an unforgettable visit to this popular attraction, where you can explore the beach's unique features and fantastic vistas.
*Platja de la Rabassada
Experience an adventure in water sports, or simply relax and appreciate the pein of the ocean waves.
*Cala Font
Join an organized tour to fully appreciate the hidden treasures of this area.
*Platja Llarga
*Playa Dels Llenguadets
*Platja dels Capellans
*Salou Beach
Hop on a bus or bike tour to uncover the wonders of the area surrounding this stunning beach.
*Llevant Beach
My Personal Thoughts and Experiences About Tarragona Spain Beaches
Tarragona's beaches remind me of the charm I experienced when I lived in San Diego, exploring small beach towns along the California and Oregon coasts, and even venturing down to Ensenada and Rosarito in Mexico.
Over the years, my love for quaint beach towns has grown as I've visited over 50 of them around the world. Tarragona's variety of beaches and coves absolutely resonates with my enduring passion for short beach getaways, and I can't wait to experience the beauty they have to offer.
If I had the opportunity to travel to Tarragona, I would definitely visit the magnificent Platja de la Cala Crancs and Playa de La Pineda for their sandy beaches and picturesque views.
Being a water sports enthusiast, I would rent a kayak, maybe try kite surfing, and take a scuba diving lesson to explore the underwater world. Another spot I would visit is Beach Altafulla, to play beach volleyball and unwind at one of the beachfront bars with some live music.
As a lover of history, I wouldn't miss the chance to explore Tarragona's ancient landmarks and its UNESCO World Heritage sites.RegenerateNew Chat
What Beach Activities Can You Do in Tarragona?
Plenty of activities keep you busy at the beach in Tarragona. You can swim, sunbathe, play volleyball or football, and rent equipment like surfboards, kayaks, and boats. There's also a lot to see and do in town- from exploring the old city walls to trying out some of the best restaurants in Catalonia. No matter what you're looking for, Tarragona has something for everyone!
Tarragona is one of the most beautiful cities in Spain. It has a very nice climate and a lot of things to see and do. Here are seven beach activities you can enjoy in Tarragona.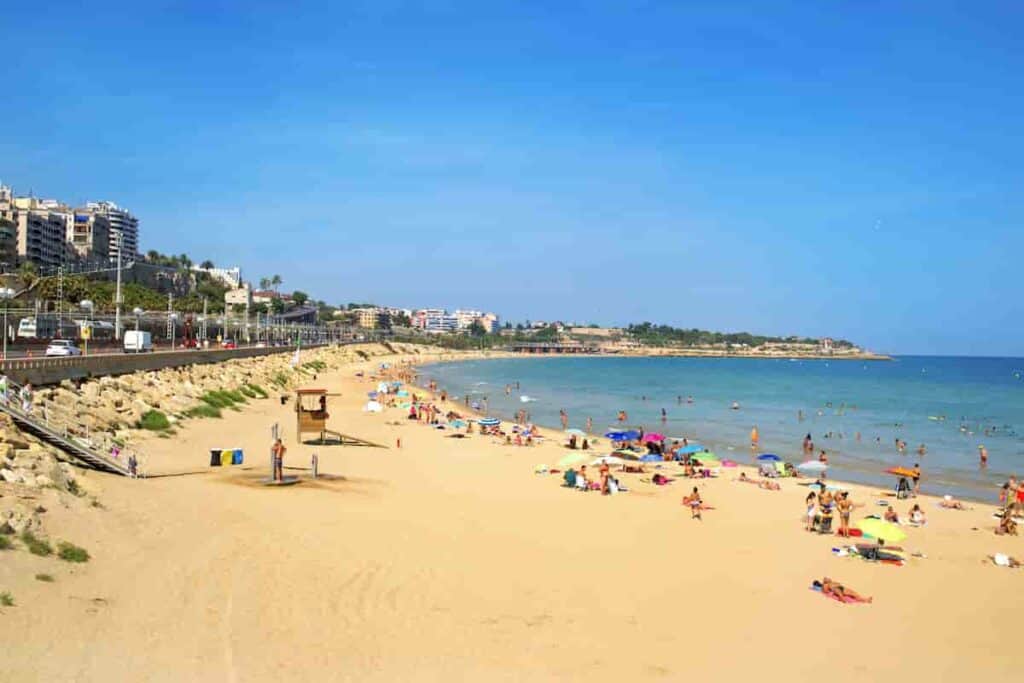 Swim in the Mediterranean Sea
There are several beaches in Tarragona where you can swim in the Mediterranean sea. There are some cove beaches such as Platja del Miracle and Platja de la Rabassada that are within walking distance from the city center of Tarragona.
Play Beach Volleyball
Beach volleyball is a sport that combines two teams of two players each. Each team tries to hit the ball over the net into its opponent's court. If the ball touches the ground first, then the team loses.
This game is played on sand courts. There are three types of courts: beach volley, beach handball, and beach soccer.
INSERT VOLLEYBALL ARTICLE HERE
Go Fishing
Fishing is another activity you can enjoy in Tarragona. 
When you go fishing, you should bring your own rod and reel.The best place to catch fish is in the Mediterranean sea, where everything from car journeys to sun-lovers seeking a seaside adventure can be found.
In addition to fishing, many restaurants in Tarragona serve delicious seafood dishes, often sourced from the nearby nature reserve, enhancing your culinary journey.
Cove beaches are plentiful on the Spanish coast near Tarragona, Spain, providing sun-lovers with numerous options for basking in the warm sun and enjoying the seaside atmosphere.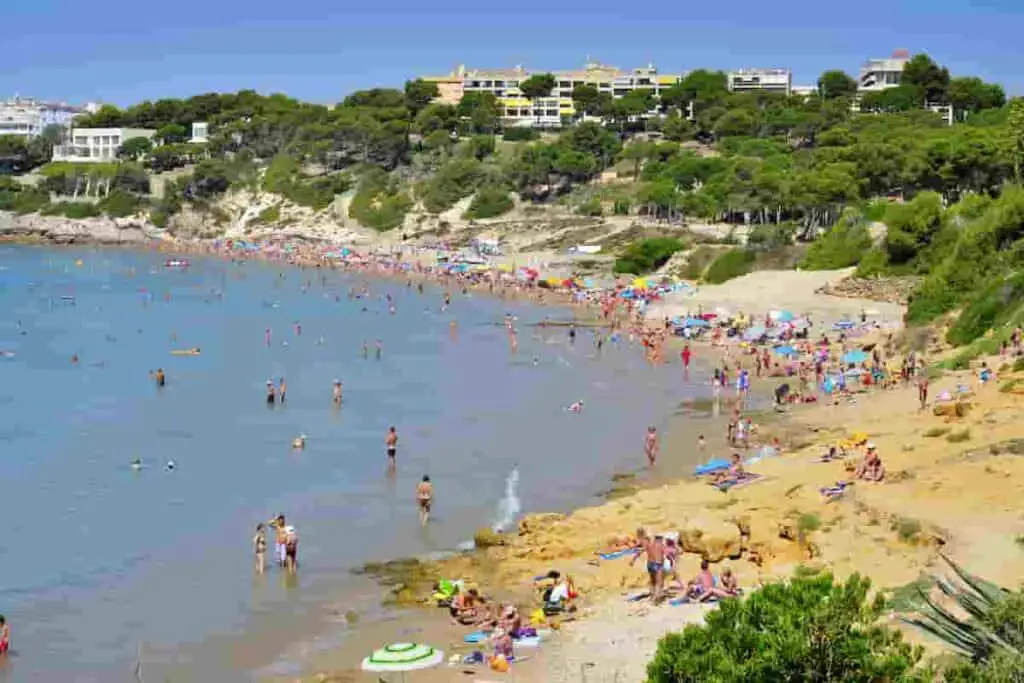 Go Surfing 
Surfing is one of the most famous sports in Tarragona. If you love surfing, then you should take the car and embark on a journey to visit Tarragona's epic waves.
There are several surf schools where you can learn how to surf. You can also rent boards and go surfing.
Kite Surfing
Kite surfing is another popular sport that involves using a kite to catch air currents. It is similar to surfing except that you ride on the water's surface instead of riding waves.
This type of surfing is suitable for people who want to practice their skills without danger.
Scuba Diving
Scuba diving is an underwater recreational activity that involves breathing underwater.
In this case, you don't need special equipment. All you need is a mask, fins, and a tank filled with compressed air.
When you dive, you must follow certain safety rules. For example, you should always swim facing the direction of the current.
Visit the Beachfront Bars
They are perfect places to hang out with friends, soak up the sun, and enjoy the view from your seaside perch.
They are perfect places to hang out with friends and enjoy the view. 
Coastal Hiking and Biking Trails Around Tarragona
The stunning coastline around Tarragona offers ample opportunities for hiking and biking enthusiasts. One of the most scenic trails is the GR-92, a long-distance coastal path that runs along the Mediterranean coast, connecting various beaches and coves.
Hikers can enjoy spectacular views of the sea, as well as explore hidden gems such as secluded bays and picturesque fishing villages. The trail is well-marked, making it suitable for hikers of all experience levels.
Cycling enthusiasts can also take advantage of the numerous bike paths and routes available around Tarragona. The Via Verde, a network of converted railway lines, offers an excellent opportunity for a leisurely bike ride along the coast, passing through lush landscapes and charming villages.
Watch amazing drone footage of Tarragona Spain beaches and surroundings by Sergio Garcia, showcasing the awe-inspiring beauty of this seaside haven.
What Is Tarragona Known For
Tarragona Is Known for Its Sandy Beaches and Coves
If you're looking for a great destination during the holidays, Tarragona is worth considering. This city offers visitors access to long sandy beaches and secluded coves, perfect for relaxation without the hustle of crowded tourist areas. There are three hidden coves on the Costa Dorada where visitors can find peace and tranquility away from crowds – making it one of the best places to take a break during the busy holidays.
Tarragona is well known for its beautiful beaches and majestic coves. With over 60 km of coastline, it's easy to find a beach or cove that suits your needs. So if you're looking for some sun and sand this holiday season, Tarragona should be at the top of your list!
Tarragona Is Known for Its Delicious Food and Drink
Suppose you're looking for a delicious place to eat while in Tarragona. You'll be amazed by choice. Tarragona has various restaurants with varying styles, including bistros, cafes, and beach bars. The Plaza de la Font is the main square in front of the Town Hall and offers outdoor seating to locals.
Tarragona also has many other dining options, such as casual tapas at Plaza de la Font or more upscale meals at the many restaurants on La Rambla Street.
Tarragona is known for its cafes and marina – perfect locations for enjoying some fresh seafood. If you want to try something truly special, order the monkfish in romesco sauce; it's sure to make you fall in love with food.
Regarding set menus, Tarragona doesn't disappoint; both red and white wines are excellent here. And if you're looking for a lively night out after dinner, don't worry – Tarragona has plenty of nightlife options!
Savoring Tarragona's Beachside Cuisine
A trip to Tarragona's beaches wouldn't be complete without indulging in the region's delicious local cuisine. Seafood lovers will be in heaven, as many beachside restaurants serve freshly caught fish and shellfish dishes, prepared using traditional Catalan recipes.
Tarragona's signature dish, "romesco de peix," is a must-try; it's a flavorful fish stew made with a rich sauce of almonds, tomatoes, and peppers. In addition to seafood, local eateries also offer a variety of tapas, paellas, and other Mediterranean dishes that showcase the region's diverse culinary heritage.
As you dine al fresco at one of Tarragona's beachside restaurants, you'll be treated to not only mouthwatering food but also stunning views of the Mediterranean Sea.
Pair your meal with a glass of local wine or a refreshing sangria to complete the quintessential Spanish dining experience. Be sure to take the time to savor both the flavors and the atmosphere, as the combination of delicious food, beautiful surroundings, and warm ocean breezes is truly unforgettable.
5 Places to Visit in the City of Tarragona
Tarragona is an ideal spot for tourists enjoying beachside and non-beach activities. The city has something for everyone–from stunning architecture and historical landmarks to amazing restaurants and nightlife scenes. So be sure to add Tarragona Spain beaches to your list of places to visit!
1. Tarragona Cathedral:
This cathedral is a great example of Romanesque architecture and is one of the main tourist attractions in Tarragona.
This cathedral was built between 1075 and 1150. It is the largest Gothic church in Europe.
There are two towers, one inside the other. They were built in the 14th century.
Inside there are paintings and sculptures. There are also several chapels and altars.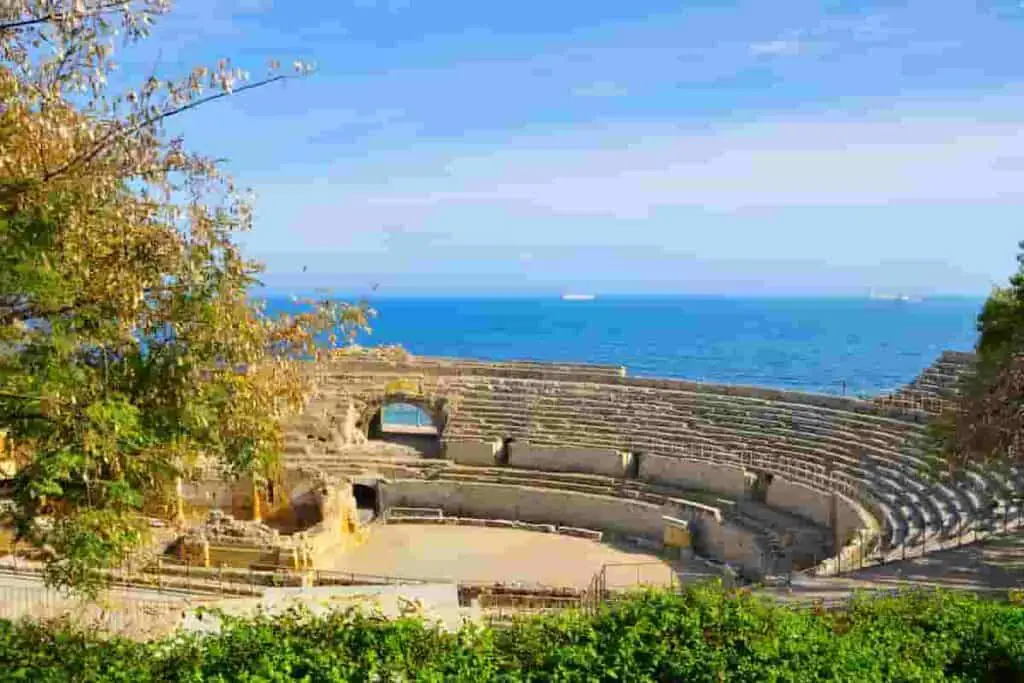 2. Visit the Roman Ruins and Roman Amphitheatre:
Tarragona has a lot of Roman ruins, and they were built between 200 BC and 400 AD. They include the Temple of Diana, the Theatre, the Aqueduct, the Roman Bridge, the Roman Forum, and the Roman Baths. There are three main buildings: the amphitheater, the forum, and the theater. Of these, the amphitheater was built in the 1st century AD and is now a UNESCO World Heritage Site.
3. Parc Natural del Montseny
Parc Natural del Montseny is a natural park located in Tarragon that covers an area of about 6,000 hectares. Its pine forests, meadows, lakes, and rivers are well-known. It is a popular destination for hiking and camping.
4. Visit the Castle – Tamarit Castle
Tamarit Castle is a historic fortress dating back to the 13th century. The castle is situated in the city center. Walls surround the castle, and moats surround it. The castle is open for public tours. You can visit the museum, the tower, and the gardens.
5. Museums
Tarragona also has museums. There are two museums in Tarragona that are worth visiting. The first museum is the Museum of Contemporary Art. This museum is located in the old town.
It shows modern art. The second museum is the Archaeological Museum. It is located near the Roman ruins. It has exhibits about the history of Tarragona.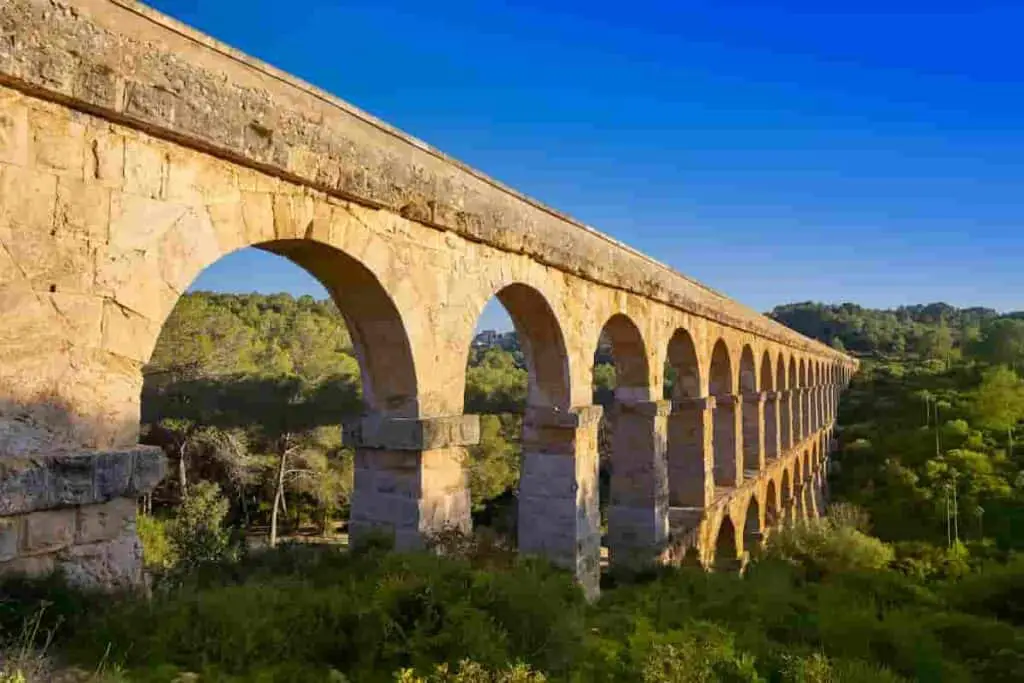 Final Thoughts    
So there you have it, some basic information about Tarragona and its beaches. I've covered topics about what kind of beaches there are in Tarragona and gave a list of six recommended beaches and other cove beaches close to the city.
Additionally, I listed some of the beach activities you can do in Tarragona and gave some ideas about what to do when you want to spend some time off the beach. For your next trip, take these tips and apply them to your situation. The best thing you can do to pack for your vacation is to have a good plan and then get moving to implement it.