Key Takeaways
Quiet European beaches offer solitude, different from crowded beaches, perfect for relaxation.
Research shows 60% of European tourists prefer seaside vacations; 29% prefer beach holidays.
Characteristics to evaluate quiet beaches include accessibility, sand quality, and proximity to cities.
When visiting quiet beaches, local authentic restaurants enhance the experience and value.
Quiet beach hotels should offer peace, accessibility, and have good ratings for best experience.
Europe is filled with beaches that are on the quiet side. Fewer crowds, less traffic, less noise, and less congestion. Some beach destinations are almost too quiet, and it's a good thing; you can relax and think while there. These beaches are quiet for a reason; they are perfect for relaxing and enjoying the solitude. It makes me wonder, what are the best quiet European beach destinations?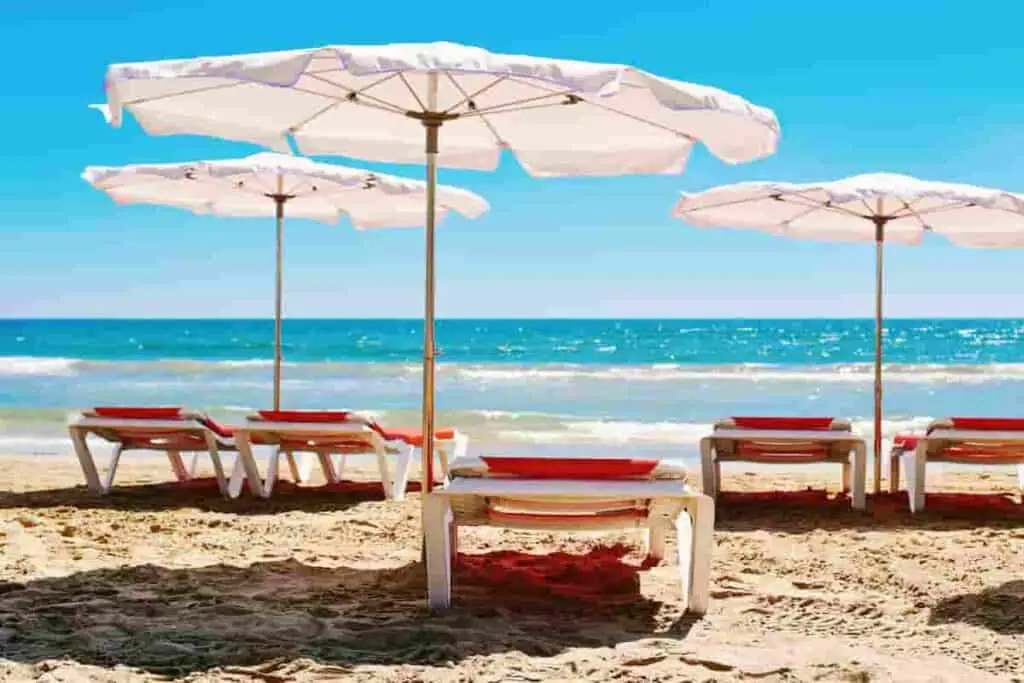 The Best Quiet European Beach Destinations
So, what are the best quiet European beach destinations? They are:#1- Playa Cala Sa Boadella , Costa Brava, Spain#2- Palma Nova, Mallorca, Spain#3- Viveiro, Galicia, Spain#4- Praia da Marinha , Algarve, Portugal#5- Praia dos Pescadores, Albufiera, Portugal#6- Cascais, Portugal#7- Caldera Beach, Santorini, Greece#8- Andros, Greek Islands, Greece#9- San Vito Lo Capo, Sicily#10- Quinta Spiaggia, Sardinia#11- Banje Beach, Dubrovnic, Croatia#12- Plage de Fossan, Menton, France#14- Plage de la Garoupe, Antibes, France#15- Bitez, Bodrum, Turkey
If you're planning a relaxing vacation, but aren't interested in the larger crowds and noise of more famous beaches such as Barcelona or Rome (or even smaller cities), consider a less crowded beach location such as Greece, Portugal, or Turkey. These countries' beaches tend to be quieter than more famous beaches, such as France and Spain, which are often packed during peak season.
While quiet beaches don't necessarily mean secluded, they offer different kinds of relaxation. Many of these locations are known for their beautiful scenery, making them perfect spots for hiking, biking, kayaking, swimming, fishing, and other outdoor activities.
Compared to more popular beaches, research shows that quiet beaches are generally less popular than more crowded beaches in Europe. However, the search results also suggest that approximately 60% of all European tourists prefer to vacation along the seaside, and out of this 60%, 29% prefer a beach holiday. (Source)
Table of Contents
How can you beat the crowds if you are on vacation in summer, during the popular months for beach goers in Europe? One suggestion from travel booking company Momondo, is that visiting on a weekday may result in finding the beach almost empty, especially if they are secret or hidden beaches. (Source)
Let's dive into the list and find out where you should visit next time we need to get away from it all! Keep on reading, you won't want to miss it!
Wait, I Have Some Recommendations Handpicked Just For You!
Before going ahead, I want you to take a look at some recommendations I've handpicked for you. I think these are some of the best beach products that are useful for all beachgoers, whether you are vacationing in Europe on a quiet beach, or elsewhere. You can check them out and buy these products from Amazon.
Image
Buy
Title
Prime

Top

Check Price on Amazon
Beach Cooler Backpack, Insulated, Sandproof -Keeps Drinks & Snacks Cool

Prime

Eligible

Check Price on Amazon
Sports Polarized Sunglasses For Men - Perfect for the Beach

Prime

Eligible

Check Price on Amazon
Wekapo Beach Blanket Sandproof, Beach Mat, Compact Carry, Sand Free Mat, (1~3 person)

Prime

Eligible

Check Price on Amazon
SHYLERO Beach Bag, Zippered, Waterproof (IP64) - Large Bag for Your Beach Items

Prime

Eligible

Check Price on Amazon
Reef Men's Sandals - Comfort & Style

Prime

Eligible

Check Price on Amazon
ROCKNIGHT Polarized HD Oversized Sunglasses for Women - Perfect Style For The Beach

Prime

Eligible
What Are the 15 Best Quiet European Beach Destinations? Best Beaches Europe For Relaxation
#1- Playa Cala Sa Boadella , Costa Brava, Spain
An isolated beach in the Costa Brava region of Spain. This beach with white sand and clear waters is not as well-known to tourists and is relatively quiet in the off-season months. It is located between Tossa de Mar and Lloret de Mar and can be accessed by car or bus.
This secluded beach is a great place to get away from it all and enjoy the natural beauty of the surroundings. Enjoy a relaxing day with a good book on the sunny beach, or take a kayak out to one of the nearby islands to explore. At the end of the day, relax with a drink by the fire pit near the ocean as the stars come out.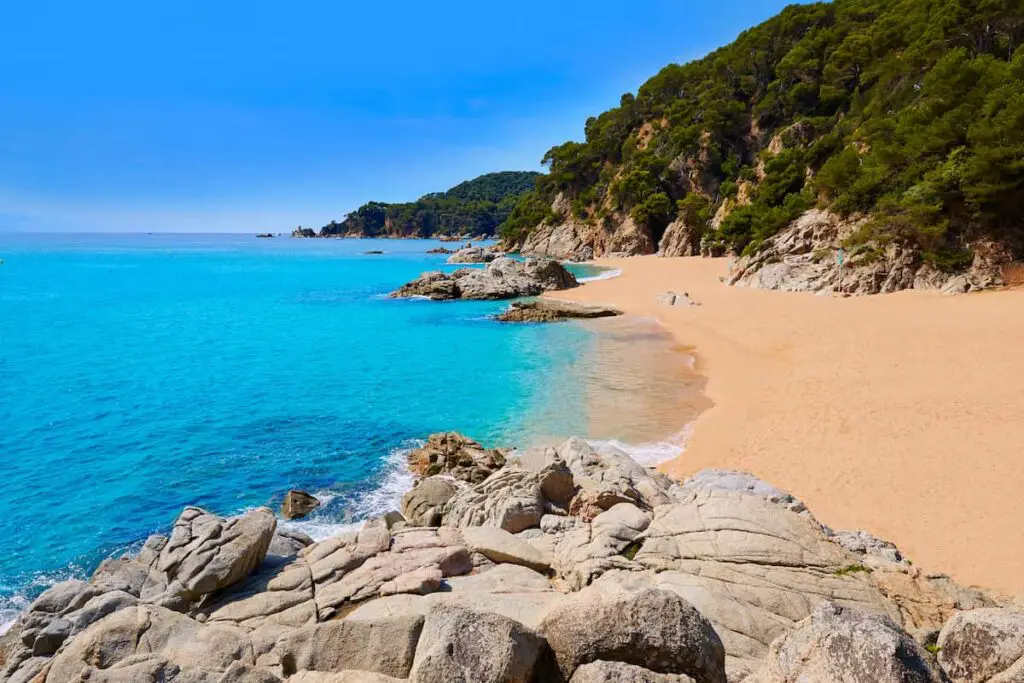 #2- Palma Nova, Mallorca, Spain
Palma Nova Beach is a popular beach spot that is also quiet and secluded in the off-season months. This beach is a popular tourist attraction for tourists and locals to enjoy. It is easily accessible by car or bus.
Of the many activities you can do in Palma Nova, sailing in Palma Nova is an exhilarating experience. The winds in Palma Nova are constant and strong. You can sail throughout the year, not just in summer. The winds blow against the current and at the same speed of the boats. You can sail on the open sea or sail in the marina. Palma Nova is a great sailing destination.
Mallorca is perfect for visiting and having the more quiet European beach destination. An island by itself, it hosts over ten medium-sized beaches with beautiful landscapes. Check out my article 23 Best Beach Towns Mallorca [Beautiful Beaches, Playa Lists] to learn more about what to see on Mallorca while having a quiet holiday.
#3- Viveiro, Galicia, Spain
Viveiro beach is a beautiful spot located in Spain. The best way to get there is by car or train; the journey takes around two hours. The beach offers stunning views of the Atlantic Ocean and is a popular spot for swimming, sunbathing, and surfing. The best time to visit Viveiro beach is during the summer months when the weather is warm and sunny. Visitors should bring sunscreen, water bottles, snacks, and a hat to enjoy their time at the beach.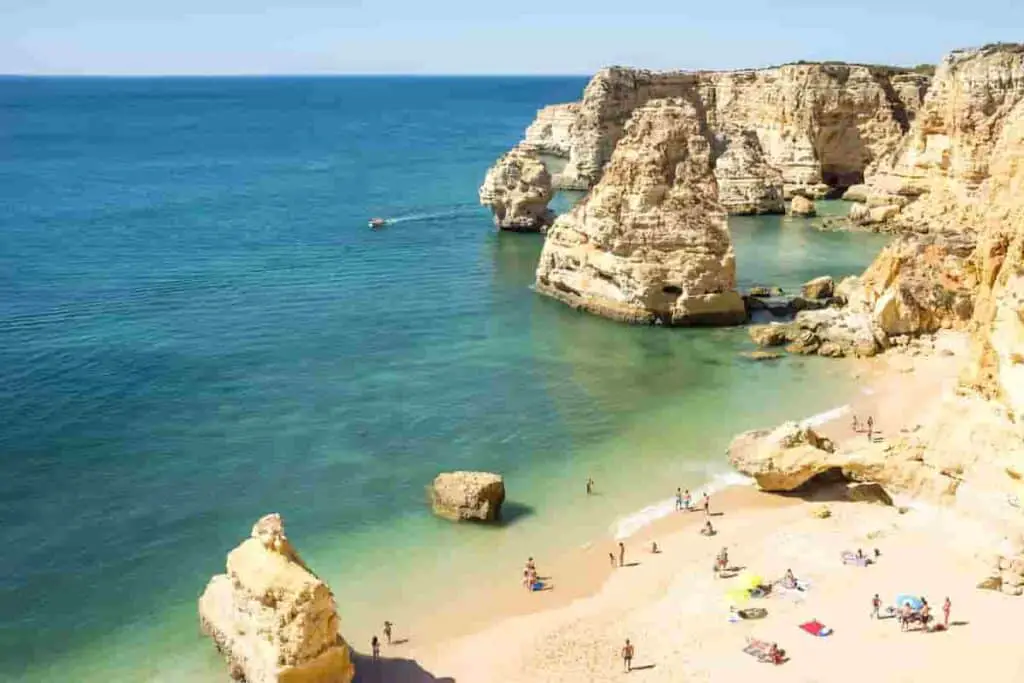 #4- Praia da Marinha , Algarve, Portugal
This beach is in the town of Albufeira, located on the southern coast of Portugal. It is a quiet and relaxing beach spot. Tourists and locals visit this beach. It is easy to reach this beach by car or by public transportation.
Praia da Marinha has plenty of amenities for a relaxing vacation. There are lots of outdoor bars and restaurants. The sand and water are fine, and the scenery is beautiful. It is a very popular beach among tourists from Portugal.
#5- Praia dos Pescadores, Albufiera, Portugal
Praia dos Pescadores is a gorgeous coastal town in Portugal that is also quiet and secluded. The beaches have white sand and crystal-clear water.
Below is a summary of the key features of the Praia dos Pescadores beach. This table will provide you with a quick understanding of what you can expect when you visit this beautiful location.
| Features | Praia dos Pescadores | Details |
| --- | --- | --- |
| Accessibility | Often visited by locals in the off-season | Easily reachable by car or bus from Albufeira |
| Activities | Great for snorkeling and swimming | Calm waters, beautiful rock formations, and abundant sea life |
| Watersports | Offers fun watersports | Includes kitesurfing, windsurfing, and sailing. Sailboats are available for rent |
| Suitability | Ideal for couples and families | A great vacation destination |
#6- Cascais, Portugal
Cascais is a coastal resort area in Portugal. It is situated 12 kilometers east of Lisbon and is famous for its beaches. The beaches of Cascais are sheltered and house many activities, including windsurfing and surfing.
As you are near Lisbon, this beach spot is easy to access by car or bus. The drive is lovely, and the beach is beautiful. It is a great place to spend an afternoon and enjoy the sun and the beach in the off-season months.
#7- Caldera Beach, Santorini, Greece
A beautiful little beach, a (not so) little island in Greece. You can access the beach by boat from Fira or Oia. This beach is not well known by tourists, but since Santorini is such a popular place to visit, it isn't too difficult to find.
Caldera Beach is a quiet place where you can sunbathe and enjoy the view of Santorini, especially at sunset time. You can rent sun beds right on the beach and buy some drinks or snacks in the little taverns right at the entrance of the beach.
#8- Andros, Greek Islands, Greece
The beach is accessed by boat from either Athens or Mykonos and takes about 45 minutes to reach. The beach is a secluded and very beautiful place. The sand is white, and the water is clear. The water is warm, but the best time to visit is May through October.
This is a perfect location for people who enjoy the beach and the water but would rather be alone than in a crowd. The water is calm, and there are rocks to swim around on. It is a beautiful place to explore and relax. There is a beautiful restaurant near the beach where guests can relax and dine.
If you are interested in Greek beaches, why not try ancient Greek beaches which are in general more out of the main tourist plans? Check out my article to give you a good overview: Ancient Greece Beaches-11 Surprising Beaches [Visit While On A Greek Vacation!]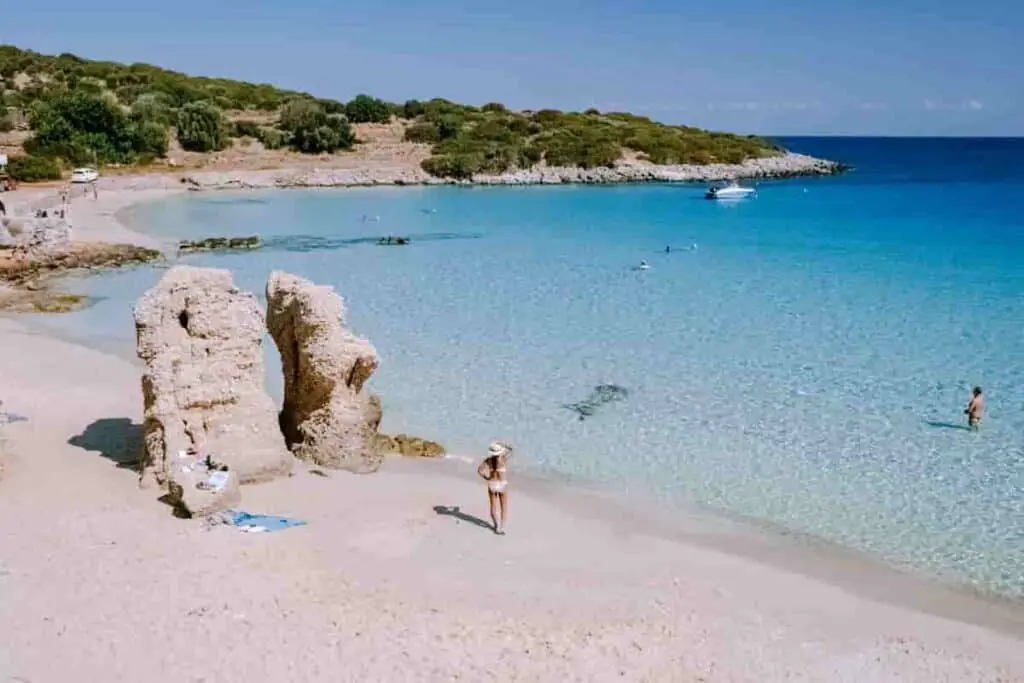 #9- San Vito Lo Capo, Sicily
Most people visit this beach in the summertime of July-September. It is a little difficult to find and far from the main Italian cities. San Vito Lo Capo is one of the quieter beaches in Sicily and is not as crowded as some of the other beaches in Sicily.
San Vito Lo Capo is perfect for swimming. The weather is usually warm, and the water is crystal clear. You can swim and snorkel on the beach. The water is shallow in three areas, and you can swim safely with children and infants. The beach is accessible and safe. However, there are no showers or restrooms, so you must bring your own water and towels.
#10- Quinta Spiaggia, Sardinia
A small island off the coast of Sardinia is a truly beautiful and quiet place. The sand is soft and white, and the turquoise waters are gorgeous. The island is tiny, so there is not much to see there; however, once you are there, you have the beach all to yourself. You must take a boat from the mainland to get to this quiet beach spot.
Being on a small, quiet island off the Sardinia coast is really nice and relaxing. You can spend the day there basking in the sun or swimming in the warm waters. The warm waters are great for swimming and protect them from the wind. The sands are soft and white. The scenery around you is breathtaking. There are few tourists in the area so that you will have the beach all to yourself.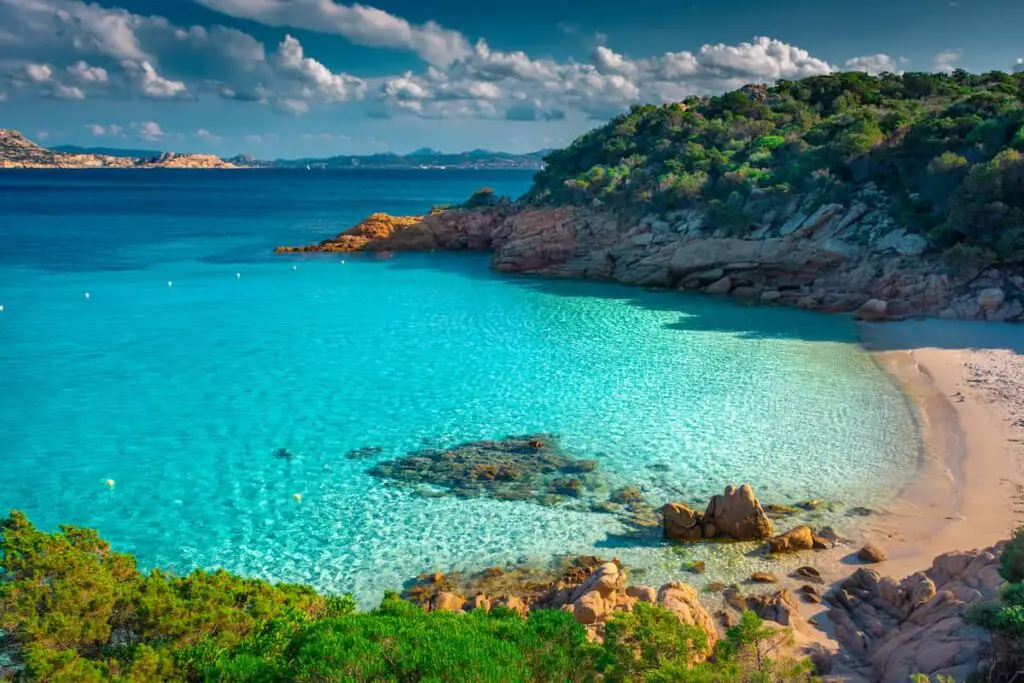 #11- Banje Beach, Dubrovnic, Croatia
Banje Beach is unique, making it easier to get away from the crowds than other Croatian beaches. It is located along the Dalmatian Coast in Croatia and is not crowded at all, even during tourist season. This beach is easily accessible by car or bus.
Banje Beach in Dubrovnic, Croatia, is a great place to visit if you want to relax and escape the crowds. You can sunbathe on the soft sand under the bright sun and swim in the clear blue waters. If you feel more active, you can snorkel or scuba dive in the shallow waters. The beaches in Croatia are beautiful, and Banje Beach is no exception.
#12- Plage de Fossan, Menton, France
Located along the Riviera de Menton in France, Plage de Fossan is a quiet beach spot that is great for swimming as the water is calm and clear. This beach is not crowded at all in the off-season months (especially September), and even during high tourist season, it is not too crowded. It is a short and easy drive from Menton to Fossan Beach, and you can reach it by foot or bus.
Plage de Fossan, Menton, is famous for its quiet environment. This beach is perfect for those who want to enjoy being in the Mediterranean without lots of people around. Plage de Fossan, Menton, is a family favorite for its beautiful surroundings and quiet atmosphere.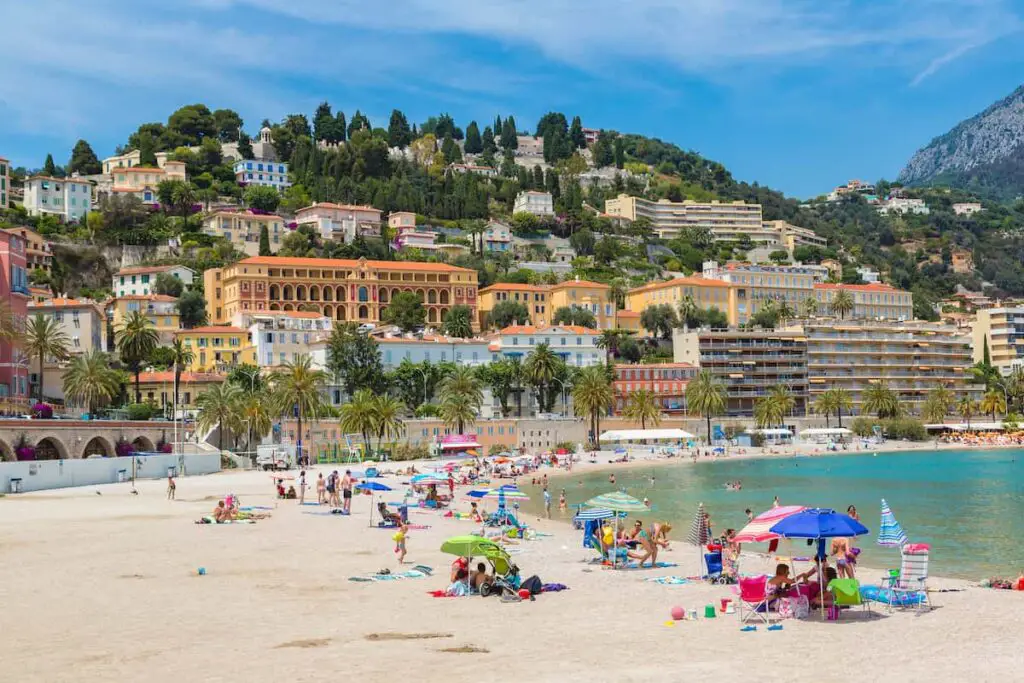 #13- Plage de la Salis, Antibes,
Plage de la Salis is a beautiful beach located on the French Riviera. Though the beach is incredibly popular in the summer months of June through August, the rest of the year, you will find this beach is mostly deserted and peaceful. During the off-season months, you can easily reach the beach by car or public transportation.
The sea in Antibes is clear and beautiful. It is a perfect spot for snorkeling. You can rent snorkels and buy food and snacks at the shops on the beach. The water is warm and soft, and the sand is soft as well. La Salis is a perfect place to spend a vacation.
#14- Plage de la Garoupe, Antibes, France
I will include two beaches from Antibes because it is such a beautiful beach town. Plage de la Garoupe is a beautiful beach in Antibes, France. The beach is quiet and only moderately busy in the off-season months. However, this beach is extremely popular and crowded during the high tourist season. It is easy to get to Antibes by highway from Nice or Cannes.
The beach has soft sand, and the water temperature is perfect for swimming. Yachts are docked along the shores, and you can rent jet skis or boats on the beach. There are many shops and restaurants nearby.
#15- Bitez, Bodrum, Turkey 
Bitez is a gorgeous and quiet beach destination that is not too crowded. In the off-season months, you can find this quiet beach relatively empty and enjoy it in peace and quiet. Bitez is accessible by car or bus from Bodrum or Bodrum Airport.
Enjoy peaceful beaches, and swim in the clear blue waters. Bitez has a beautiful beach with crystal clear waters, perfect for swimming. Bitez is also the starting point for many boat tours so that you can enjoy the waterfall and nearby islands from the sea. Bitez's quiet beaches are the perfect place to relax and sunbathe.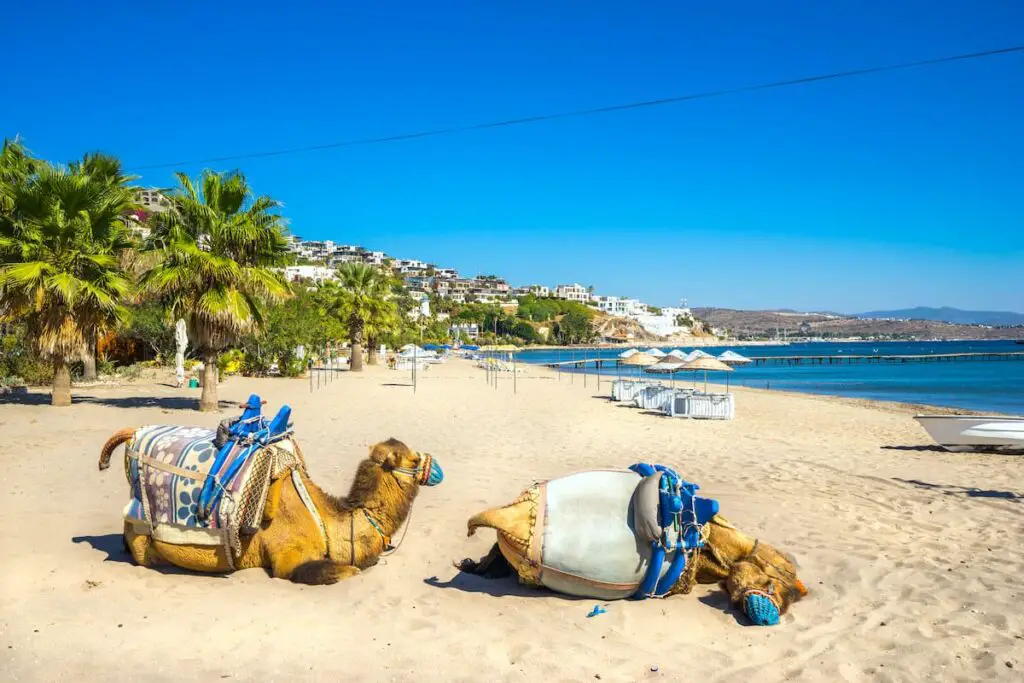 Why Should You Visit a Quiet Beach Destination?
Reasons to Visit a Quiet Beach Destination? Some Advantages and Drawbacks
There are many reasons to visit a quiet beach destination. Quiet beaches offer a place to escape the noise of modern life. They are great for relaxation and contemplation. Quiet beaches are great for people who want to disconnect from the world. They offer a chance to relax and breathe without the noise of waves. Quiet beaches also offer a chance to see beautiful scenery. A quiet beach destination is charming, beautiful, and friendly. Quiet beaches are perfect for a relaxing holiday. A quiet beach destination retains its traditional atmosphere and is easy to get to by air. The town or village has good cafes and restaurants for a cool drink and local food.
How Should You Evaluate a Quiet and Secluded Beach Destination?
Elements of a Quiet and Secluded European Beach
Evaluating a quiet and secluded beach is fairly easy, and in the end, it still needs your personal views on what is compatible with what you have in mind for being at a quiet beach. It also depends on what activities you plan to do there, as the quieter and secluded it is, the less it may have in amenities and water-rented equipment. Here are a few key elements to consider:
1. Location: Is the Beach Easily Accessible?
The location of a beach destination is important to consider for a few reasons. Firstly, you want to ensure the beach is easily accessible by air, car, or public transport. Secondly, the beach should be close to major cities so you can easily get to and from your destination. Finally, the beach should have plenty of activities available during the day and at night.
2. Sand: Is the Sand Quality Good?
The sand quality at a beach is important for several reasons. The sand can affect the water quality, which is important for swimming and fishing. The sand can also affect the environment of the beach. Knowing how to evaluate the sand quality is important before going to a beach.
There are several things that you can look for when you are evaluating sand quality. The first thing is the color of the sand. The sand should be a light brown or white color. If it is any other color, it may indicate that there are pollutants in the area. Another thing to look for is the size of the grains. The grains should be small and uniform in size. If they are not, it could indicate there has been an erosion in the area.
3. Activities: Are There Good Activities?
You should consider what kind of activities you want to do when you get away from it because often secluded beaches do not have as many amenities and sports equipment. So do check this out in the planning phase of selecting a quiet European beach. If you visit the beach in the off-season when it is quieter, be sure that the equipment rental places are open.
It might be that you choose to travel solo, and traveling solo to European destinations is not only possible, but Europeans have a nice way of enjoying their privacy.
Quiet European beach spots are also Ideal for traveling solo. If you are interested in solo travel in Europe, I wrote a whole article just on this topic. Find it here: Solo Travel Beach Europe – Best Beaches To Visit [Plus Activities]
4. Landscape: Is the Landscape Pretty?
A pretty landscape is created by combining different landscape elements in an aesthetically pleasing way. The composition of plants, the use of color, and how everything ties together are important factors to consider when evaluating a landscape. Pretty landscapes are typically well-preserved and updated over time.
5. Crowds: How Many People Are On The Beach?
-Boardwalks help to preserve the environment by preventing sound from traveling through the sand. This makes it easier for tourists to enjoy the quiet beach atmosphere.
-Boardwalks can also be used as a walking path, making it easy to get around the island without disturbing the natural environment.
6. Restaurants: Are There Good Restaurants?
When visiting a quiet beach destination, look for restaurants that have a more authentic, local feel. These types of restaurants will offer a unique dining experience and provide good value for your money. Quiet beaches are also easy to get to by air, making them a convenient option for travelers.
7. Hotels: Are There Good Hotels?
When looking for hotels at a quiet beach destination, it is important to consider the hotel's location, even if it is not close to the beach you intend to go. A hotel located in a quiet beach destination is more likely to be peaceful and relaxing, and it should at least be accessible by car. In addition, it is important to consider the rating of the hotel. 
A Few Additional Ideas for Relaxing
Here are a few more ideas, ones that I have done on San Diego, Dubai, and Portugal beaches:
Conclusion
So there you have it! The best quiet European destinations can give you peace of mind and recharge your batteries. Europe has a wealth of beautiful beaches that offer a variety of activities, from surfing to fishing to relaxing, and as we have covered above, it's good to list what you want to do on a quiet beach so you make good decisions.
Whether you're planning a romantic trip or a family vacation, these peaceful spots will provide you with plenty of opportunities for relaxation and adventure. So pack your bags and book your flight today!
Frequently Asked Questions‍
There are many secret beaches in Europe, including one off the coast of Iceland. You can find these hidden gems by taking a boat tour or hiking through the mountainous regions.
What Are Some Underrated Beach Destinations in Europe?
Some underrated beach destinations in Europe include the Croatian coast, which has a long stretch of untouched beaches, and the islands of Malta.
What Is the Least Crowded Beach? Great for A Beach Holiday
The best beaches in Europe are not always the most popular. Some of the best beaches are less crowded and have great weather during the shoulder season. Zlatni rat in Croatia and Playa de Monsul in Spain are some of the best beaches in Europe, but they are not as popular during peak seasons. Palombaggia beach in Corsica and Kamalos beach in Ios, Greece, are some of the best beaches in Europe that are not crowded at any time.
What Is a Sandy Beach?
A sandy beach is a coastline or shore that is primarily made up of sand. It is a popular type of beach for sunbathing, swimming, and building sandcastles.
What Is a Coastline?
A coastline refers to the area where land meets the sea or ocean. It includes the land, cliffs, beaches, coves, and other features along the shore.
What Is a Cove?
A cove is a small, sheltered bay or inlet along a coastline. It is usually surrounded by cliffs or steep slopes and provides a peaceful and secluded environment.
The 10 best hidden beaches in Europe are secluded and lesser-known destinations that offer pristine beauty and tranquility. These hidden gems can be found in various European cities and include picturesque spots like black sea, sandy beaches, lagoon, pinarello beach in Corsica, and more.
What Is a Beach Resort?
A beach resort is a holiday destination that is located along the coast and offers a wide range of amenities and activities for visitors. It typically includes accommodation options, beach bars, restaurants, and recreational facilities.
What Are the Best Secret Beaches in Europe?
If you're looking for hidden and secluded beaches in Europe, you'll find plenty of options. From the rugged coastline of Croatia to the stunning beaches of Portugal and the remote islands of Aran Islands, there are fantastic beaches waiting to be discovered.
What is Kilmurvey Beach?
Kilmurvey Beach is one of the best beaches in the Aran Islands, located off the western coast of Ireland. It features soft white sand, stunning views, and a peaceful atmosphere, making it an ideal spot to relax and enjoy the beach life.
What Are the Most Beautiful Beaches in Southern Europe?
Southern Europe is known for its gorgeous coastline and stunning beaches. Some of the prettiest beaches can be found in popular resort towns like Corfu, Costa del Sol, and the French Riviera. There are also several hidden gems along the southern tip of Europe that offer secluded and picturesque beach experiences.
What Are the Popular Activities to Do in A Beach Destination?
In a beach destination, you can indulge in various activities such as sunbathing, swimming, snorkeling, surfing, beach volleyball, boating, taking a leisurely walk along the shore, exploring sand dunes, and enjoying delicious local delicacies at tavernas. You can also go on day trips to nearby islands or take part in beach clubs' events and entertainment.